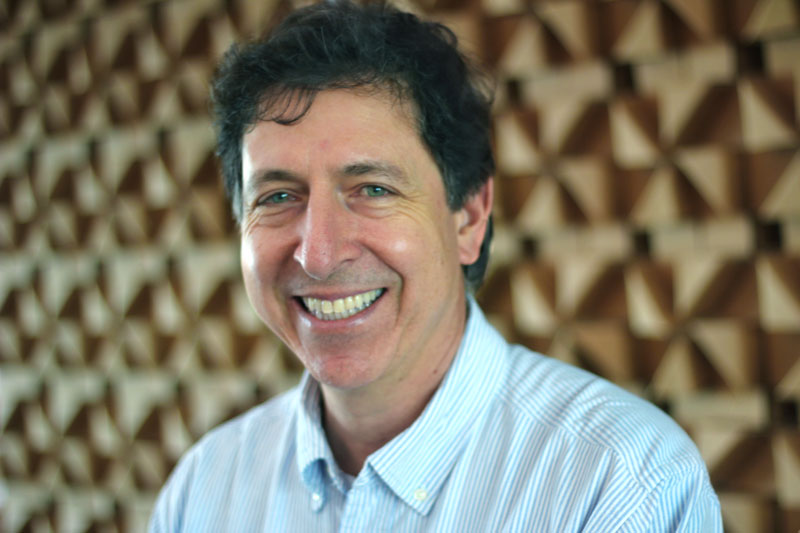 Received the M.D. degree from the Univ Sao Paulo Med Sch (1984), Campus Ribeirao Preto., the Ph.D. degree in Physiology from the Medical College Of Wisconsin (1988), and Post-doctoral training in molecular biology at Harvard Medical School and Stanford University School of Medicine. He is Full Professor of Medicine at the University of Sao Paulo Medical School and Director of the Laboratory of Genetics and Molecular Cardiology at the Heart Institute (InCor). He is a regular member of the Brazilian and State of São Paulo Academies of Science and Peovost of Research at tge University of Sao Paulo. The main research areas focus on the identification of molecular markers associated with the genesis of cardiovascular diseases and the development of new therapeutic interventions based on gene/cell approaches.
Molecular Basis of Cardiovascular Disorders
Development of New Therapeutic Approaches for Cardiac Regeneration
Degree in Medicine (1979 - 1984). Ribeirão Preto Medical School, University of São Paulo, FMRP-USP
PhD in Physiology (1985 - 1988) Medical College of Wisconsin, MCW, USA. Title: Mechanisms of salt sensitivity in angiotensin II hypertension in dogs. Advisor: Allen W Cowley Jr.
Postdoctoral (1989 - 1990) Harvard University, Harvard, United States. Major Area: Biological Sciences.
Postdoctoral (1990 - 1992) Stanford University, Stanford, USA. Major Area: Biological Sciences.
Course offered on pos graduation
Physiological Basis - Cardiovascular Module
MALUF-MEIKEN, LEILA C. V.;MALUF-MEIKEN, L. C. V.;FERNANDES, FERNANDA BARRINHA;ARAGAO, D. S.;RONCHI, FERNANDA APARECIDA;ANDRADE, M. C. C.;FRANCO, M. C.;FEBBA, A. C. S.;Krieger, José Eduardo;Mill, J. G.;SESSO, R. C.;CASARINI, Dulce Elena;RONCHI, FERNANDA A.;FEBBA, ANDREIA C. S.;CASARINI, DULCE E.;FERNANDES, FERNANDA B.;ARAGÃO, DANIELLE S.;ANDRADE, MARIA C. C.;PLAVNIK, FRIDA L.;KRIEGER, JOSÉ E.;SESSO, RICARDO C. C.;MILL, JOSE G.;FRANCO, MARIA C.;.N-Domain Isoform of Angiotensin I Converting Enzyme as a Marker of Hypertension: Populational Study. International Journal of Hypertension,v.2012,1 - 9,2012;
MARCATTO, LEILIANE RODRIGUES;SACILOTTO, LUCIANA;BUENO, CAROLINA TOSIN;FACIN, MIRELLA;STRUNZ, CELIA MARIA CASSARO;DARRIEUX, FRANCISCO CARLOS COSTA;SCANAVACCA, MAURÍCIO IBRAHIM;Krieger, Jose Eduardo;Pereira, Alexandre Costa;Santos, Paulo Caleb Junior Lima;.Evaluation of a pharmacogenetic-based warfarin dosing algorithm in patients with low time in therapeutic range - study protocol for a randomized controlled trial. BMC Cardiovascular Disorders (Online),v.16,224,2016;
BEIJAMINI, F.;KNUTSON, K. L.;LORENZI-FILHO, G.;EGAN, K. J.;TAPOROSKI, T. P.;DE PAULA, L. K. G.;NEGRÃO, A. B.;HORIMOTO, A. R. V. R.;DUARTE, N. E.;VALLADA, H.;Krieger, J. E.;PEDRAZZOLI, M.;Pereira, A. C.;VON SCHANTZ, M.;.Timing and quality of sleep in a rural Brazilian family-based cohort, the Baependi Heart Study. Scientific Reports,v.6,39283,2016;
EGAN, KIEREN J.;CAMPOS SANTOS, HADASSA;BEIJAMINI, FELIPE;DUARTE, NÚBIA E.;HORIMOTO, ANDRÉA R. V. R.;TAPOROSKI, TÂMARA P.;VALLADA, HOMERO;NEGRÃO, ANDRÉ B.;Krieger, José E.;PEDRAZZOLI, MÁRIO;KNUTSON, KRISTEN L.;Pereira, Alexandre C.;VON SCHANTZ, MALCOLM;.Amerindian (but not African or European) ancestry is significantly associated with diurnal preference within an admixed Brazilian population. Chronobiology International,v.34,1 - 4,2017;
CARNEIRO, ANA PAULA;FONSECA-ALANIZ, MIRIAM HELENA;Dallan, Luís Alberto Oliveira;MIYAKAWA, Ayumi Aurea;Krieger, Jose Eduardo;.β-arrestin is critical for early shear stress-induced Akt/eNOS activation in human vascular endothelial cells. Biochemical and Biophysical Research Communications (Print),v.29,75 - 81,2017;
ALVIM, RO;MOURÃO, J;MAGALHÃES, GL;OLIVEIRA, CM;Krieger, JE;MILL, JG;PEREIRA, AC;.Non-HDL cholesterol is a good predictor of the risk of increased arterial stiffness in postmenopausal women in an urban Brazilian population. Clinics,v.72,106 - 110,2017;
EGAN, KIEREN J;VON SCHANTZ, MALCOLM;NEGRÃO, ANDRÉ B;SANTOS, HADASSA C;HORIMOTO, ANDRÉA R V R;DUARTE, NUBIA E;GONÇALVES, GUILHERME C;Soler, Júlia M P;de Andrade, Mariza;Lorenzi-Filho, Geraldo;VALLADA, HOMERO;TAPOROSKI, TÂMARA P;PEDRAZZOLI, MARIO;AZAMBUJA, ANA P;DE OLIVEIRA, CAMILA M;Alvim, Rafael O;Krieger, José E;Pereira, Alexandre C;.Cohort profile: the Baependi Heart Study-a family-based, highly admixed cohort study in a rural Brazilian town. BMJ Open,v.6,e011598,2016;
ALVIM, RAFAEL O.;HORIMOTO, ANDRÉA R.V.R.;OLIVEIRA, CAMILA M.;BORTOLOTTO, LUIZ A.;Krieger, José E.;Pereira, Alexandre C.;.Heritability of arterial stiffness in a Brazilian population. Journal of Hypertension,v.35,105 - 110,2017;
BERNARDEZ-PEREIRA, SABRINA;Gioli-Pereira, Luciana;MARCONDES-BRAGA, FABIANA G;Santos, Paulo Caleb Junior Lima;SPINA, JOCELI MABEL ROCHA;HORIMOTO, ANDRÉA ROSELI VANÇAN RUSSO;SANTOS, HADASSA CAMPOS;BACAL, FERNANDO;FERNANDES, FÁBIO;MANSUR, ALFREDO JOSE;PIETROBON, RICARDO;Krieger, José Eduardo;MESQUITA, EVANDRO TINOCO;Pereira, Alexandre Costa;.Genomic ancestry as a predictor of haemodynamic profile in heart failure. Open Heart,v.3,e000434,2016;
MARCATTO, LEILIANE RODRIGUES;SACILOTTO, LUCIANA;DARRIEUX, FRANCISCO CARLOS DA COSTA;HACHUL, DENISE TESSARIOL;SCANAVACCA, MAURÍCIO IBRAHIM;Krieger, Jose Eduardo;Pereira, Alexandre Costa;LIMA SANTOS, PAULO CALEB JUNIOR;.Age is associated with time in therapeutic range for warfarin therapy in patients with atrial fibrillation. OncoTarget,v.7,54194 - 54199,2016;
SILVA, PÃMELA R.S.;JANNES, CINTHIA E.;MARSIGLIA, JULIA D.C.;Krieger, Jose E.;Santos, Raul D.;Pereira, Alexandre C.;.Predictors of cardiovascular events after one year of molecular screening for Familial hypercholesterolemia. Atherosclerosis (Amsterdam),v.250,144 - 150,2016;
KRENNING, GUIDO;BARAUNA, VALERIO G.;Krieger, José E.;HARMSEN, MARTIN C.;MOONEN, JAN-RENIER A. J.;.Endothelial Plasticity: Shifting Phenotypes through Force Feedback. Stem Cells International,v.2016,1 - 15,2016;
MALAGRINO, PAMELLA ARAUJO;Venturini, Gabriela;YOGI, PATRÍCIA SCHNEIDER;Dariolli, Rafael;PADILHA, KALLYANDRA;KIERS, BIANCA;GOIS, TAMIRIS CARNEIRO;MOTTA-LEAL-FILHO, JOAQUIM MAURÍCIO;TAKIMURA, CELSO KIYOCHI;GIRARDI, ADRIANA CASTELLO COSTA;CARNEVALE, FRANCISCO CÉSAR;CANEVAROLO, RAFAEL;MALHEIROS, DENISE MARIA AVANCINI COSTA;DE MATTOS ZERI, ANA CAROLINA;Krieger, José Eduardo;Pereira, Alexandre Costa;.Metabolomic characterization of renal ischemia and reperfusion in a swine model. Life Sciences (1973),v.156,57 - 67,2016;
DE FAZIO AGUIAR, HELENA;JÚNIOR, ANTONIO CARLOS ROVEDA;DE JESUS PIVA, RENAN;ONODA, KEVIN AKIRA;MIYAKAWA, Ayumi Aurea;Krieger, Jose Eduardo;FRANCO, DOUGLAS WAGNER;Tadini, Carmen Cecilia;.Compatibility of cassava starch films as nitric oxide carrier for potential medical device. Journal of Applied Polymer Science (Print),v.132,n/a - n/a,2015;
MARCHINI, JULIO F.;MIYAKAWA, Ayumi Aurea;TARASOUTCHI, FLAVIO;Krieger, José Eduardo;LEMOS, PEDRO;CROCE, KEVIN;.Endothelial, platelet, and macrophage microparticle levels do not change acutely following transcatheter aortic valve replacement. Journal of Negative Results In Biomedicine,v.15,15:7,2016;
PIRES, THIAGO;AZAMBUJA, ANA PAULA;HORIMOTO, ANDREA;VERONEZE, MARY;ALVIM, RAFAEL;Krieger, Jose Eduardo;Pereira, Alexandre;.A population-based study of the stratum corneum moisture. Clinical, cosmetic and investigational dermatology,v.18,79 - 87,2016;
VASSEQUI-SILVA, TALLITA;PEREIRA, DANIELLE SOUSA;NERY DIEZ, ANA CLÁUDIA C.;BRAGA, GUILHERME G.;GODOY, JULIANA A.;MENDES, CAMILA B.;dos Santos, Leonardo;Krieger, José E.;ANTUNES, EDSON;COSTA, FÁBIO T.M.;VICENTE, CRISTINA P.;WERNECK, CLAUDIO C.;.Losartan and captopril treatment rescue normal thrombus formation in microfibril associated glycoprotein-1 (MAGP1) deficient mice. Thrombosis Research,v.138,7 - 15,2016;
COSTA, LEANDRO M.A.;REZENDE, PAULO C.;GARCIA, ROSA M.R.;UCHIDA, AUGUSTO H.;SEGURO, LUIS FERNANDO B.C.;SCUDELER, THIAGO L.;BOCCHI, EDIMAR A.;Krieger, Jose E.;HUEB, Whady;RAMIRES, JOSÉ ANTONIO F.;FILHO, ROBERTO KALIL;.Role of Trimetazidine in Ischemic Preconditioning in Patients With Symptomatic Coronary Artery Disease. Medicine (Baltimore, Md.),v.94,e1161,2015;
de Oliveira Alvim, Rafael;MOURAO-JUNIOR, CARLOS ALBERTO;DE OLIVEIRA, CAMILA MACIEL;DE FARIA LIMA, RERISSON;HORIMOTO, ANDRÉA ROSELI VANÇAN RUSSO;HONG, VALÉRIA APARECIDA COSTA;BORTOLOTTO, LUIZ APARECIDO;Krieger, José Eduardo;Pereira, Alexandre Costa;.Glycemic control and arterial stiffness in a Brazilian rural population: Baependi Heart Study. Diabetology & Metabolic Syndrome,v.7,7:86,2015;
LEMOS, JOSÉ RIBEIRO;ALVES, CLEBER RENÊ;DE SOUZA, SÍLVIA BEATRIZ P. CAVASIN;MARSIGLIA, JULIA DAHER CARNEIRO;SILVA, MICHELLE SABRINA MOREIRA;da Costa Pereira, Alexandre;TEIXEIRA, ANTÔNIO LÚCIO;VIEIRA, ÉRICA LEANDRO MARCIANO;Krieger, José Eduardo;NEGRÃO, Carlos Eduardo;ALVES, GUILHERME BARRETO;DE OLIVEIRA, EDILAMAR MENEZES;BOLANI, WLADIMIR;DIAS, RODRIGO GONÇALVES;TROMBETTA, IVANI CREDIDIO;.Peripheral vascular reactivity and serum responses to aerobic training are impaired by the Val Met polymorphism. Physiological Genomics (Print),v..,physiolgenomics.00086.2015,2015;
TAPOROSKI, TÂMARA P.;NEGRÃO, ANDRÉ B.;HORIMOTO, ANDRÉA R. V. R.;DUARTE, NUBIA E.;ALVIM, RAFAEL O.;DE OLIVEIRA, CAMILA M.;Krieger, José E.;SCHANTZ, MALCOLM VON;VALLADA, HOMERO;Pereira, Alexandre C.;.Shared Genetic Factors of Anxiety and Depression Symptoms in a Brazilian Family-Based Cohort, the Baependi Heart Study. Plos One,v.10,e0144255,2015;
DINARDO, CARLA LUANA;SANTOS, HADASSA CAMPOS;VAQUERO, ANDRÉ RAMOS;MARTELINI, ANDRÉ RICARDO;DALLAN, LUIS ALBERTO OLIVEIRA;ALENCAR, ADRIANO MESQUITA;Krieger, José Eduardo;Pereira, Alexandre Costa;.Smoking and Female Sex: Independent Predictors of Human Vascular Smooth Muscle Cells Stiffening. Plos One,v.10,e0145062,2015;
ALVES, CHRYSTIAN J.;Dariolli, Rafael;JORGE, FREDERICO M.;MONTEIRO, MATHEUS R.;MAXIMINO, JESSICA R.;MARTINS, ROBERTO S.;STRAUSS, BRYAN E.;KRIEGER, JOSé E.;CALLEGARO, DAGOBERTO;CHADI, GERSON;.Gene expression profiling for human iPS-derived motor neurons from sporadic ALS patients reveals a strong association between mitochondrial functions and neurodegeneration. Frontiers in Cellular Neuroscience,v.9,289 - 289,2015;
DAMOUS, LUCIANA L.;Nakamuta, Juliana S.;SATURI DE CARVALHO, ANA ET;CARVALHO, KATIA CANDIDO;SOARES-JR, JOSÉ MARIA;SIMÕES, MANUEL DE JESUS;Krieger, José Eduardo;BARACAT, EDMUND CHADA;.Does adipose tissue-derived stem cell therapy improve graft quality in freshly grafted ovaries?. Reproductive Biology and Endocrinology,v.13,108,2015;
Santos, Paulo Caleb Junior Lima;MARCATTO, LEILIANE RODRIGUES;DUARTE, NUBIA ESTEBAN;Soares, Renata Alonso Gadi;STRUNZ, CELIA MARIA CASSARO;SCANAVACCA, MAURÍCIO;Krieger, Jose Eduardo;Pereira, Alexandre Costa;.Development of a pharmacogenetic-based warfarin dosing algorithm and its performance in Brazilian patients: highlighting the importance of population-specific calibration. Pharmacogenomics,v.-,1 - 12,2015;
DE PAULA, LILIAN K.G.;ALVIM, RAFAEL O.;PEDROSA, RODRIGO P.;HORIMOTO, ANDREA R.V.R.;Krieger, José E.;OLIVEIRA, CAMILA M.;Pereira, Alexandre C.;Lorenzi-Filho, Geraldo;.Heritability of Obstructive Sleep Apnea in a rural population. Chest (American College of Chest Physicians),v.-,-,2015;
TOMAZ, PAULO ROBERTO XAVIER;SANTOS, JULIANA ROCHA;ISSA, JAQUELINE SCHOLZ;ABE, TÂNIA OGAWA;GAYA, PATRÍCIA VIVIANE;Krieger, José Eduardo;Pereira, Alexandre Costa;SANTOS, PAULO CALEB JÚNIOR LIMA;.CYP2B6 rs2279343 polymorphism is associated with smoking cessation success in bupropion therapy. European Journal of Clinical Pharmacology (Internet),v.-,-,2015;
DAMOUS, LUCIANA LAMARÃO;NAKAMUTA, Juliana Sanajotti;SATURI DE CARVALHO, ANA ELISA TEOFILO;CARVALHO, KÁTIA CÂNDIDO;SOARES-JR, JOSÉ MARIA;SIMÕES, MANUEL DE JESUS;Krieger, José Eduardo;BARACAT, EDMUND C.;.Scaffold-based delivery of adipose tissue-derived stem cells in rat frozen-thawed ovarian autografts: preliminary studies in a rat model. Journal of Assisted Reproduction and Genetics,v.?,?,2015;
CAMPOS, L. C.;MENEGON, A. S.;BARAUNA, V.;MAUTAN, P. R.;MIYAKAWA, A. A.;Krieger JE;.Abstract 19986: Cyclic Stretch-induced CRP3/MLP Sensitizes Vascular Smooth Muscle Cells to Apoptosis During Vein Remodeling in Response to Arterialization. Circulation (New York, N.Y.),v.2014,A19986,2014;
ROCHA SANTOS, JULIANA;TOMAZ, PAULO R. X.;ISSA, JAQUELINE S.;ABE, TâNIA O.;KRIEGER, JOSé E.;Pereira, Alexandre C.;Santos, Paulo C. J. L.;.CHRNA4 rs1044396 is associated with smoking cessation in varenicline therapy. Frontiers in Genetics,v.6,6:46,2015;
VON SCHANTZ, MALCOLM;TAPOROSKI, TAMARA P.;HORIMOTO, ANDRÉA R. V. R.;DUARTE, NUBIA E.;VALLADA, HOMERO;Krieger, José E.;PEDRAZZOLI, MARIO;NEGRÃO, ANDRÉ B.;Pereira, Alexandre C.;.Distribution and heritability of diurnal preference (chronotype) in a rural Brazilian family-based cohort, the Baependi study. Scientific Reports,v.5,9214,2015;
DOURADO, LUCIANA OLIVEIRA CASCAES;POPPI, NILSON TAVARES;ADAM, EDUARDO LEAL;LEITE, THIAGO NUNES PEREIRA;PEREIRA, Alexandre da Costa;Krieger, José Eduardo;CESAR, LUIZ ANTONIO MACHADO;Gowdak, Luís Henrique Wolff;.The effectiveness of intensive medical treatment in patients initially diagnosed with refractory angina. International Journal of Cardiology (Print),v.186,29 - 31,2015;
DAMOUS, LUCIANA LAMARÃO;NAKAMUTA, Juliana Sanajotti;SATURI DE CARVALHO, ANA ELISA TEÓFILO;SOARES-JR, JOSÉ MARIA;SIMÕES, MANUEL DE JESUS;Krieger, José Eduardo;BARACAT, EDMUND C;.Adipose tissue-derived stem cell therapy in rat cryopreserved ovarian grafts. Stem cell research & therapy,v.6,6:57,2015;
MIMARY OLIVEIRA, THÉO G.;MITNE-NETO, MIGUEL;CERDEIRA, LOUISE TEIXEIRA;CARNEIRO MARSIGLIA, JULIA D.;ARTEAGA-FERNANDEZ, EDMUNDO;Krieger, José E.;Pereira, Alexandre C.;.A Variant Detection Pipeline for Inherited Cardiomyopathies-Associated Genes Using Ion Torrent PGM Platform. The Journal of Molecular Diagnostics,v.15,00075-6,2015;
Soares, Renata Alonso Gadi;Santos, Paulo Caleb Junior Lima;Machado-Coelho, George Luiz Lins;NASCIMENTO, RAIMUNDO MARQUES DO;MILL, JOSE GERALDO;Krieger, Jose Eduardo;Pereira, Alexandre Costa;.CYP2C9 and VKORC1 Polymorphisms Are Differently Distributed in the Brazilian Population According to Self-Declared Ethnicity or Genetic Ancestry. Genetic Testing and Molecular Biomarkers (Online),v.16,957 - 963,2012;
Krieger JE;Santos PC;Soares RA;Strunz CM;Grinberg M;Ferreira JF;Cesar LA;Scanavacca M;Pereira AC;.Simultaneous use of amiodarone influences warfarin maintenance dose but is not associated with adverse events.. Journal of managed care & specialty pharmacy,v.2014,376-81,2014;
JANNES, CINTHIA E.;Santos, Raul D.;DE SOUZA SILVA, PÃMELA R.;TUROLLA, LUCIANA;GAGLIARDI, ANA C.M.;MARSIGLIA, JULIA D.C.;CHACRA, ANA P.;Miname, Marcio H.;ROCHA, VIVIANE Z.;FILHO, WILSON SALGADO;Krieger, Jose E.;Pereira, Alexandre C.;.Familial hypercholesterolemia in Brazil: Cascade screening program, clinical and genetic aspects. Atherosclerosis (Amsterdam),v.238,101 - 107,2015;
DIAS, R. G.;SILVA, M. S. M.;DUARTE, N. E.;BOLANI, W.;ALVES, C. R.;JUNIOR, J. R. L.;DA SILVA, J. L.;DE OLIVEIRA, P. A.;ALVES, G. B.;DE OLIVEIRA, E. M.;ROCHA, C. S.;MARSIGLIA, J. D. C.;NEGRAO, C. E.;Krieger, E. M.;Krieger, J. E.;Pereira, A. C.;.PBMCs express a transcriptome signature predictor of oxygen uptake responsiveness to endurance exercise training in men. Physiological Genomics (Online),v.47,13 - 23,2015;
BAJGELMAN, MARCIO C.;dos Santos, Leonardo;Silva, Gustavo J.J.;NAKAMUTA, JULIANA;SIRVENTE, RAQUEL A.;CHAVES, MARCIO;Krieger, José Eduardo;STRAUSS, BRYAN E.;.Preservation of cardiac function in left ventricle cardiac hypertrophy using an AAV vector which provides VEGF-A expression in response to p53. Virology (New York, N.Y. Print),v.476,106 - 114,2015;
NUNES, R. A. B.;BARROSO, L. P.;PEREIRA, A. D. C.;Krieger, J. E.;MANSUR, A. J.;.Gender-related associations of genetic polymorphisms of  -adrenergic receptors, endothelial nitric oxide synthase and bradykinin B2 receptor with treadmill exercise test responses. Open Heart,v.1,e000132 - e000132,2014;
ZOGBI, C.;SATURI DE CARVALHO, A. E. T.;NAKAMUTA, J. S.;CACERES, V. D. M.;PRANDO, S.;GIORGI, M. C. P.;ROCHITTE, C. E.;MENEGHETTI, J. C.;Krieger, J. E.;.Early postnatal rat ventricle resection leads to long-term preserved cardiac function despite tissue hypoperfusion. Physiological Reports,v.2,e12115 - e12115,2014;
DARIOLLI, R.;TAKIMURA, C. K.;CAMPOS, C. A.;LEMOS, P. A.;Krieger, J. E.;.Development of a closed-artery catheter-based myocardial infarction in pigs using sponge and lidocaine hydrochloride infusion to prevent irreversible ventricular fibrillation. Physiological Reports,v.2,e12121 - e12121,2014;
MALAGRINO, P. A.;VENTURINI, G.;YOGI, P. S.;DARIOLLI, R.;PADILHA, K.;KIERS, B.;GOIS, T. C.;DA MOTTA-LEAL-FILHO, J. M.;TAKIMURA, C. K.;GIRARDI, A. C. C.;CARNEVALE, F. C.;ZERI, A. C. M.;MALHEIROS, D. M. A. C.;Krieger, J. E.;Pereira, A. C.;.Catheter-based induction of renal ischemia/reperfusion in swine: description of an experimental model. Physiological Reports,v.2,e12150 - e12150,2014;
Santos, Paulo C.J.L.;MORGAN, ALINE C.;JANNES, CINTHIA E.;Krieger, José E.;Santos, Raul D.;Pereira, Alexandre C.;.The MYLIP p.N342S polymorphism is associated with response to lipid-lowering therapy in Brazilian patients with familial hypercholesterolemia. Pharmacogenetics and Genomics (Print),v.24,548 - 555,2014;
DE OLIVEIRA, TABATA SANTOS;SERRA, ANDREY JORGE;MANCHINI, MARTHA TRINDADE;BASSANEZE, V.;KRIEGER, Jose Eduardo;DE TARSO CAMILLO DE CARVALHO, PAULO;ANTUNES, DANIELA ESPINDOLA;BOCALINI, DANILO SALES;FERREIRA TUCCI, PAULO JOSÉ;SILVA, JOSÉ ANTÔNIO;.Effects of low level laser therapy on attachment, proliferation, and gene expression of VEGF and VEGF receptor 2 of adipocyte-derived mesenchymal stem cells cultivated under nutritional deficiency. Lasers in Medical Science (Internet),v.1,1,2014;
Gioli-Pereira, Luciana;BERNARDEZ-PEREIRA, SABRINA;GOULART MARCONDES-BRAGA, FABIANA;ROCHA SPINA, JOCELI;MUNIZ MIRANDA DA SILVA, RAFAEL;EVANGELISTA FERREIRA, NOELY;BACAL, FERNANDO;FERNANDES, FÁBIO;Mansur, Alfredo;KRIEGER, JOSÉ;Costa Pereira, Alexandre;.Genetic and ElectroNic medIcal records to predict oUtcomeS in Heart Failure patients (GENIUS-HF) - design and rationale. BMC Cardiovascular Disorders (Online),v.14,32,2014;
MARSIGLIA, JULIA DAHER;CREDIDIO, FLÁVIA;DE OLIVEIRA, THÉO GREMEN;REIS, RAFAEL;ANTUNES, MURILLO DE;DE ARAUJO, ALOIR;PEDROSA, RODRIGO;BARBOSA-FERREIRA, JOÃO MARCOS;MADY, Charles;KRIEGER, JOSÉ;ARTEAGA-FERNANDEZ, EDMUNDO;Pereira, Alexandre;.Clinical predictors of a positive genetic test in hypertrophic cardiomyopathy in the Brazilian population. BMC Cardiovascular Disorders (Online),v.14,36,2014;
ALVIM, RAFAEL DE OLIVEIRA;MOURAO-JUNIOR, CARLOS ALBERTO;DE OLIVEIRA, CAMILA MACIEL;Krieger, José E.;Mill, José G.;Pereira, Alexandre C.;.Body Mass Index, Waist Circumference, Body Adiposity Index, and Risk for Type 2 Diabetes in Two Populations in Brazil: General and Amerindian. Plos One,v.9,e100223,2014;
BERNARDEZ-PEREIRA, SABRINA;SANTOS, PAULO;Krieger, Jose;Mansur, Alfredo;Pereira, Alexandre;.ACTN3 R577X polymorphism and long-term survival in patients with chronic heart failure. BMC Cardiovascular Disorders (Online),v.14,90,2014;
DAMOUS, LUCIANA;NAKAMUTA, JULIANA;SOARES-JR, JOSÉ;MACIEL, GUSTAVO ARANTES;SIMÕES, RICARDO DOS;MONTERO, EDNA FRASSON DE SOUZA;KRIEGER, JOSÉ;BARACAT, EDMUND;.Females transplanted with ovaries subjected to hypoxic preconditioning show impair of ovarian function. Journal of Ovarian Research,v.7,34,2014;
SANTANA, ANDRE BENTO CHAVES;SOUZA OLIVEIRA, THAIS CRISTINA DE;BIANCONI, BARBARA LOBO;BARAUNA, VALERIO GARRONE;SANTOS, ED WILSON CAVALCANTE OLIVEIRA;ALVES, TATIANA P.;SILVA, JULIANE CRISTINA S.;FIORINO, PATRICIA;BORELLI, PRIMAVERA;IRIGOYEN, MARIA CLAUDIA COSTA;KRIEGER, Jose Eduardo;LACCHINI, Silvia;.Effect of High-Fat Diet upon Inflammatory Markers and Aortic Stiffening in Mice. BioMed Research International,v.2014,1 - 12,2014;
SANTOS, PAULO CJL;BUENO, CAROLINA T;Lemos PA;KRIEGER, Jose Eduardo;PEREIRA, Alexandre C;.LPA rs10455872 polymorphism is associated with coronary lesions in Brazilian patients submitted to coronary angiography. Lipids in Health and Disease,v.13,74,2014;
KRIEGER, Jose Eduardo;Serra, Andrey Jorge;Bocalini, Danilo Sales;Barauna, V. G.;Tucci, P. J.;SILVA JA Jr;.Aerobic exercise training induces an anti-apoptotic milieu in myocardial tissue. Motriz : Revista de Educação Física (Online),v.20,233 - 238,2014;
GIRÃO-SILVA, THAIS;BASSANEZE, Vinicius;CAMPOS, LUCIENE CRISTINA;Barauna, Valerio Garrone;DALLAN, LUIS ALBERTO;KRIEGER, Jose Eduardo;MIYAKAWA, Ayumi Aurea;.Short-term mechanical stretch fails to differentiate human adipose-derived stem cells into cardiovascular cell phenotypes. Biomedical Engineering Online (Online),v.13,54,2014;
SILVA, JOSÉ ANTÔNIO;SANTANA, EDUARDO TADEU;MANCHINI, MARTHA TRINDADE;ANTÔNIO, EDNEI LUIS;BOCALINI, DANILO SALES;Krieger, José Eduardo;TUCCI, Paulo José Ferreira;SERRA, ANDREY JORGE;.Exercise Training Can Prevent Cardiac Hypertrophy Induced by Sympathetic Hyperactivity with Modulation of Kallikrein-Kinin Pathway and Angiogenesis. Plos One,v.9,e91017,2014;
SANTOS, H.C.;FRAGOSO, T.M.;MACHADO-COELHO, G.L.;DO NASCIMENTO, R.M.;MILL, J.G.;KRIEGER, Jose Eduardo;Pereira, A.C.;.Self-declared ethnicity associated with risk factors of cardiovascular diseases in an urban sample of the Brazilian population: The role of educational status in the association. International Journal of Cardiology (Print),v.168,2973 - 2975,2013;
Schreiber, Roberto;BELLINAZZI, VERA REGINA;SPOSITO, ANDREI C.;Mill, José G.;KRIEGER, Jose Eduardo;Pereira, Alexandre C.;NADRUZ, WILSON;.Influence of the C242T Polymorphism of the p22-phox Gene (CYBA) on the Interaction between Urinary Sodium Excretion and Blood Pressure in an Urban Brazilian Population. Plos One,v.8,e81054,2013;
BELLINAZZI, V. R.;SPOSITO, A. C.;Schreiber, R.;MILL, J. G.;Krieger, J. E.;Pereira, A. C.;NADRUZ, W.;.Response to Cold Pressor Test Predicts Long-Term Changes in Pulse Wave Velocity in Men. American Journal of Hypertension,v.27,157 - 161,2013;
DINARDO, C. L.;VENTURINI, G.;ZHOU, E. H.;WATANABE, I. S.;Campos, L. C. G.;DARIOLLI, R.;DA MOTTA-LEAL-FILHO, J. M.;CARVALHO, V. M.;CARDOZO, K. H. M.;Krieger, J. E.;ALENCAR, A. M.;Pereira, A. C.;.Variation of mechanical properties and quantitative proteomics of VSMC along the arterial tree. American Journal of Physiology. Heart and Circulatory Physiology,v.306,H505 - H516,2014;
Santos, Paulo Caleb Junior Lima;MORGAN, ALINE CRUZ;JANNES, CINTIA ELIN;TUROLLA, LUCIANA;KRIEGER, Jose Eduardo;Santos, Raul D.;Pereira, Alexandre Costa;.Presence and type of low density lipoprotein receptor (LDLR) mutation influences the lipid profile and response to lipid-lowering therapy in Brazilian patients with heterozygous familial hypercholesterolemia. Atherosclerosis (Amsterdam),v.233,206 - 210,2014;
DINARDO, CARLA LUANA;Santos, Paulo Caleb Junior Lima;SCHETTERT, ISOLMAR TADEU;Soares, Renata Alonso Gadi;KRIEGER, Jose Eduardo;Pereira, Alexandre Costa;.Investigation of Genetic Disturbances in Oxygen Sensing and Erythropoietin Signaling Pathways in Cases of Idiopathic Erythrocytosis. Genetics Research International,v.2013,1 - 4,2013;
ASSAD, Renato Samy;MIANA, LEONARDO AUGUSTO;FONSECA-ALANIZ, MIRIAM HELENA;ABDUCH, MARIA CRISTINA DONADIO;SILVA, Gustavo José Justo da;OLIVEIRA, FERNANDA SANTOS DE;MOREIRA, LUIZ FELIPE PINHO;Krieger, José Eduardo;.Reversible pulmonary trunk banding. IX. G6PD activity of adult goat myocardium submitted to ventricular retraining. Revista Brasileira de Cirurgia Cardiovascular (Impresso),v.28,482 - 490,2013;
FERNANDES, TIAGO;HASHIMOTO, NARA YUMI;SCHETTERT, ISOLMAR TADEU;NAKAMUTA, Juliana Sanajotti;Krieger, José Eduardo;OLIVEIRA, Edilamar Menezes de;.O grau de melhora na função das células progenitoras endoteliais derivadas da medula óssea é dependente do volume de treinamento físico aeróbio. Revista Brasileira de Medicina do Esporte (Impresso),v.19,260 - 266,2013;
Schreiber, R.;MILL, J. G.;Krieger, J. E.;Pereira, A. C.;NADRUZ, W.;.Association Between Glutathione S-Transferase M1 Polymorphism and Urinary Sodium Excretion in a Brazilian Population. American Journal of Hypertension,v.26,1024 - 1029,2013;
DOS SANTOS, L.;SALLES, T. A.;ARRUDA-JUNIOR, D. F.;CAMPOS, L. C.;PEREIRA, A. C.;BARRETO, A. L. T.;ANTONIO, E. L.;MANSUR, A. J.;KRIEGER, Jose Eduardo;TUCCI, P. J. F.;GIRARDI, A. C. C.;.Circulating Dipeptidyl Peptidase IV Activity Correlates With Cardiac Dysfunction in Human and Experimental Heart Failure. Circulation. Heart Failure,v.6,1029 - 1038,2013;
Rodrigues, Sérgio Lamêgo;ÂNGELO, LÍLIAN CLÁUDIA SOUZA;Baldo, Marcelo Perim;DANTAS, EDUARDO MIRANDA;BARCELOS, ALEXANDRE MAULAZ;Pereira, Alexandre C.;Krieger, José Eduardo;Mill, José Geraldo;.Detection of left ventricular hypertrophy by the R-wave voltage in lead aVL: population-based study. Clinical Research in Cardiology (Print),v.102,653 - 659,2013;
BARAUNA, VALÉRIO G.;MANTUAN, PÂMELA R.;MAGALHÃES, FLÁVIO C.;Campos, Luciene C.G.;Krieger, José E.;.AT1 Receptor Blocker Potentiates Shear-Stress Induced Nitric Oxide Production Via Modulation of eNOS Phosphorylation of Residues Thr495 and Ser1177. Biochemical and Biophysical Research Communications (Print),v.441,713 - 719,2013;
dos Santos, Leonardo;Gonçalves, Giovana A.;DAVEL, ANA PAULA;Santos, Alexandra A.;Krieger, José E.;ROSSONI, LUCIANA V.;TUCCI, PAULO J.F.;.Cell therapy prevents structural, functional and molecular remodeling of remote non-infarcted myocardium. International Journal of Cardiology (Print),v.168,3829 - 3836,2013;
Dariolli, Rafael;BASSANEZE, Vinicius;NAKAMUTA, Juliana Sanajotti;OMAE, SAMANTHA VIEIRA;CAMPOS, Luciene Cristina Gastalho;Krieger, Jose E.;.Porcine Adipose Tissue-Derived Mesenchymal Stem Cells Retain Their Proliferative Characteristics, Senescence, Karyotype and Plasticity after Long-Term Cryopreservation. Plos One,v.8,e67939,2013;
MARSIGLIA, JULIA DAHER CARNEIRO;CREDIDIO, FLÁVIA LAGHI;DE OLIVEIRA, THÉO GREMEN MIMARY;REIS, RAFAEL FERREIRA;ANTUNES, MURILLO DE OLIVEIRA;DE ARAUJO, ALOIR QUEIROZ;PEDROSA, RODRIGO PINTO;BARBOSA-FERREIRA, JOÃO MARCOS BEMFICA;MADY, Charles;Krieger, José Eduardo;ARTEAGA-FERNANDEZ, EDMUNDO;PEREIRA, Alexandre da Costa;.Screening of MYH7, MYBPC3, and TNNT2 genes in Brazilian patients with hypertrophic cardiomyopathy. The American Heart Journal,v.166,775 - 782,2013;
Sousa, André G.;SELVATICI, LÍVIA;KRIEGER, Jose Eduardo;Pereira, Alexandre C.;.Association Between Genetics of Diabetes, Coronary Artery Disease, and Macrovascular Complications: Exploring a Common Ground Hypothesis. The Review of Diabetic Studies (Print),v.8,230 - 244,2011;
BARAUNA, VALERIO G.;MAGALHAES, FLÁVIO C.;Campos, Luciene C.G.;REIS, ROSANA I.;KUNAPULI, SATYA P.;COSTA-NETO, CLAUDIO M.;Miyakawa, Ayumi A.;Krieger, Jose E.;.Shear stress-induced Ang II AT1 receptor activation: G-protein dependent and independent mechanisms. Biochemical and Biophysical Research Communications (Print),v.434,647 - 652,2013;
INOUE, B. H.;ARRUDA-JUNIOR, D. F.;Campos, L. C. G.;BARRETO, A. L. T.;Rodrigues, M. V.;Krieger, J. E.;GIRARDI, A. C. C.;.Progression of microalbuminuria in SHR is associated with lower expression of critical components of the apical endocytic machinery in the renal proximal tubule. American Journal of Physiology. Renal Physiology,v.305,F216 - F226,2013;
ALVIM, R.O.;SANTOS, PAULO CALEB;MUSSO, MARIANE MANSO;KRIEGER, Jose Eduardo;DE CUNHA, ROBERTO SÁ;Mill, José Geraldo;Pereira, Alexandre Costa;.Impact of diabetes mellitus on arterial stiffness in a representative sample of an urban Brazilian population. Diabetology & Metabolic Syndrome,v.5,45,2013;
Bassaneze, Vinicius;SACRAMENTO, CHESTER BITTENCOURT;FREIRE, RODOLFO;ALENCAR, PATRÍCIA FERNANDES DE;KRIEGER, Jose Eduardo;ORTEGA, NELI REGINA SIQUEIRA;.Development of a New Approach to Aid in Visual Identification of Murine iPS Colonies Using a Fuzzy Logic Decision Support System. Plos One,v.8,e70605,2013;
ALVES, C. R.;DIAS, R. G.;ALVES, G. B.;PEREIRA, A. C.;Trombetta, I. C.;MOTA, G. F.;FERNANDES, T.;KRIEGER, Jose Eduardo;NEGRAO, C. E.;OLIVEIRA, E. M.;.Vascular reactivity and ACE activity response to exercise training are modulated by the +9/-9 bradykinin B2 receptor gene functional polymorphism. Physiological Genomics (Online),v.46,10,2013;
Gioli-Pereira, Luciana;Santos, Paulo CJL;SUGAYA, LUISA S;Ferreira, Noely E;Krieger, José Eduardo;Pereira, Alexandre C;Hueb, Whady A;.Association between UCP2 A55V polymorphism and risk of cardiovascular events in patients with multi-vessel coronary arterial disease. BMC Medical Genetics (Online),v.14,40,2013;
Santos, Paulo Caleb Junior Lima;DINARDO, CARLA LUANA;SCHETTERT, ISOLMAR TADEU;Soares, Renata Alonso Gadi;KAWABATA-YOSHIHARA, LIZ;BENSENOR, ISABELA MARTINS;KRIEGER, Jose Eduardo;LOTUFO, PAULO ANDRADE;Pereira, Alexandre Costa;.CYP2C9 and VKORC1 polymorphisms influence warfarin dose variability in patients on long-term anticoagulation. European Journal of Clinical Pharmacology (Internet),v.1,1,2012;
Krieger, J. E.;.Mapping genes for hypertension using experimental models: a challenging and unanticipated very long journey. Physiological Genomics (Online),v.43,99 - 100,2011;
DINARDO, C. L.;VENTURINI, G.;OMAE, S. V.;ZHOU, E.;da MOTTA-LEAL-FILHO, J.;DARIOLLI, R.;ALENCAR, A.M.;PEREIRA, A. C.;Krieger, J E;.Vascular smooth muscle cells exhibit a progressive loss of rigidity with serial culture passaging. Biorheology (Oxford),v.49,365 - 373,2012;
Santos, Paulo Caleb Junior Lima;KRIEGER, Jose Eduardo;Pereira, Alexandre Costa;.Renin^|^ndash;Angiotensin System, Hypertension, and Chronic Kidney Disease: Pharmacogenetic Implications. Journal of Pharmacological Sciences,v.120,77 - 88,2012;
ALVIM, RAFAEL DE OLIVEIRA;Santos, Paulo C. J. L.;NASCIMENTO, RAIMUNDO M.;COELHO, GEORGE L. L. M.;Mill, José G.;Krieger, José E.;Pereira, Alexandre C.;.BDKRB2 +9/−9 Polymorphism Is Associated with Higher Risk for Diabetes Mellitus in the Brazilian General Population. Experimental Diabetes Research (Print),v.2012,1 - 4,2012;
Gioli-Pereira, Luciana;SANTOS, PAULO CALEB JUNIOR;FERREIRA, Noely;HUEB, Whady;Krieger, Jose;Pereira, Alexandre;.Higher incidence of death in multi-vessel coronary artery disease patients associated with polymorphisms in chromosome 9p21. BMC Cardiovascular Disorders (Online),v.12,61,2012;
NERY, ARTHUR A.;NASCIMENTO, ISIS C.;GLASER, Talita;BASSANEZE, Vinicius;Krieger, José E.;ULRICH, HENNING;.Human mesenchymal stem cells: From immunophenotyping by flow cytometry to clinical applications. Cytometry. Part A,v.83,48 - 61,2012;
BIAGI, DIOGO G;Mansur, Alfredo J;Mill, Jose G;Krieger, Jose E;Pereira, Alexandre C;.A negative screen for mutations in calstabin 1 and 2 genes in patients with dilated cardiomyopathy.. Journal of Negative Results In Biomedicine,v.11,4 - 4,2012;
SANTOS, PAULO C J L;OLIVEIRA, THEO G M;LEMOS, PEDRO A;Mill, José G;Krieger, José E;Pereira, Alexandre C;.MYLIP p.N342S polymorphism is not associated with lipid profile in the Brazilian population. Lipids in Health and Disease,v.11,83,2012;
Alvim, R. d. O.;KRIEGER, Jose Eduardo;Santos, P. C. J. L.;Mill, J. G.;NADRUZ, W Jr ou NADRUZ JUNIOR, Wilson;Junior, W. N.;Cunha, R. d. S.;Pereira, A. C.;Rodrigues, M. V.;Dias, R. G.;.Association between the C242T polymorphism in the p22phox gene with arterial stiffness in the Brazilian population. Physiological Genomics (Online),v.10,1 - 11,2012;
Fávaro, Gustavo A.G.;Assad, Renato S.;Abduch, Maria C.D.;Silva, Gustavo J.J.;Gomes, Guilherme S.;Andrade, José L.;KRIEGER, Jose Eduardo;Moreira, Luiz Felipe P.;.Reversible pulmonary trunk banding: VII. Stress echocardiographic assessment of rapid ventricular hypertrophy in young goats. Journal of Thoracic and Cardiovascular Surgery (Print),v.2012,0022-5223,2012;
GIOLO, SUELY RUIZ;Krieger, José Eduardo;MANSUR, Alfredo José;Pereira, Alexandre Costa;.Survival Analysis of Patients with Heart Failure: Implications of Time-Varying Regression Effects in Modeling Mortality. Plos One,v.7,e37392,2012;
SMEMO, S.;CAMPOS, L. C.;MOSKOWITZ, I. P.;Krieger, J. E.;PEREIRA, A. C.;NOBREGA, M. A.;.Regulatory variation in a TBX5 enhancer leads to isolated congenital heart disease. Human Molecular Genetics (Print),v.21,3255 - 3263,2012;
BUDAS, GRANT;COSTA JR, HELIO MIRANDA;Krieger, José Eduardo;SCHECHTMAN, Deborah;MOCHLY-ROSEN, Daria;TEIXEIRA DA SILVA FERREIRA, ANDRÉ;FERREIRA, JULIO CESAR BATISTA;PERALES, JONAS;.Identification of PKC Targets During Cardiac Ischemic Injury. Circulation Journal,v.x,x,2012;
BRASIL, AMANDA S.;Malaquias, Alexsandra C.;Kim, Chong A.;Krieger, José Eduardo;Jorge, Alexander A.L.;Pereira, Alexandre C.;BERTOLA, DÉBORA R.;.KRAS gene mutations in Noonan syndrome familial cases cluster in the vicinity of the switch II region of the G-domain: Report of another family with metopic craniosynostosis. American Journal of Medical Genetics. Part A,v.158A,1178 - 1184,2012;
FERNANDES, FABIO;KRIEGER, Jose Eduardo;Pereira, Alexandre Costa;BUCK, PAULA;MATSUMOTO, AFONSO;MADY, Charles;ARTEAGA-FERNANDEZ, EDMUNDO;ANTUNES, MURILLO DE OLIVEIRA;MARSIGLIA, JULIA DAHER CARNEIRO;NASTARI, LUCIANO;.Plasma Pro-B-Type Natriuretic Peptide Testing as a Screening Method for Hypertrophic Cardiomyopathy. Journal of Cardiac Failure,v.18,564 - 568,2012;
SCHREIBER, R.;FERREIRA-SAE, M. C.;Mill, J. G.;NADRUZ, W.;PEREIRA, A. C.;Krieger, J. E.;FRANCHINI, K. G.;COSTA, FELIPE O.;TUCUNDUVA, A. C.;.CYBA C242T polymorphism is associated with obesity and diabetes mellitus in Brazilian hypertensive patients. Diabetic Medicine,v.29,no - no,2012;
DA LUZ, PROTÁSIO L.;TANAKA, LEONARDO;BRUM, Patrícia Chakur;DOURADO, PAULO MAGNO MARTINS;FAVARATO, DESIDÉRIO;Krieger, José Eduardo;LAURINDO, FRANCISCO RAFAEL M.;.Red wine and equivalent oral pharmacological doses of resveratrol delay vascular aging but do not extend life span in rats. Atherosclerosis (Amsterdam),v.224,136 - 142,2012;
VAQUERO, A. R.;FERREIRA, N. E.;Omae, S. V.;RODRIGUES, M. V.;TEIXEIRA, S. K.;Krieger, J. E.;PEREIRA, A. C.;.Using gene-network landscape to dissect genotype effects of TCF7L2 genetic variant on diabetes and cardiovascular risk. Physiological Genomics (Online),v.44,903 - 914,2012;
LIMA SANTOS, PAULO CALEB JÚNIOR D;DINARDO, CARLA LUANA;CANÇADO, RODOLFO DELFINI;SCHETTERT, Isolmar Tadeu;Krieger, José Eduardo;Pereira, Alexandre Costa;.Non-HFE hemochromatosis. Revista Brasileira de Hematologia e Hemoterapia (Impresso),v.34,311 - 316,2012;
FERNANDES, TIAGO;Nakamuta, Juliana S.;MAGALHÃES, FLÁVIO C.;ROQUE, FERNANDA R.;Lavini-Ramos, Carolina;Schettert, Isolmar T.;COELHO, VERÔNICA;Krieger, José E.;Oliveira, Edilamar M.;.Exercise training restores the endothelial progenitor cells number and function in hypertension. Journal of Hypertension,v.30,2133 - 2143,2012;
ALVIM, R O;SANTOS, P C J L;FERREIRA, N E;Mill, J G;Krieger, J E;PEREIRA, A C;.Thioredoxin interacting protein (TXNIP) rs7212 polymorphism is associated with arterial stiffness in the Brazilian general population. Journal of Human Hypertension,v.24,1-3,2011;
Santos, Paulo C. J. L.;Krieger, Jose E.;Pereira, Alexandre C.;.Molecular Diagnostic and Pathogenesis of Hereditary Hemochromatosis. International Journal of Molecular Sciences (Online),v.13,1497 - 1511,2012;
de Oliveira, Sérgio Almeida;GOWDAK, Luís Henrique W.;BUCKBERG, Gerald;Krieger, José Eduardo;.Cell biology, MRI and geometry: insight into a microscopic/macroscopic marriage . European Journal of Cardio-Thoracic Surgery,v.29,S259 - S265,2006;
Santos, Paulo Caleb Junior Lima;Gagliardi, Ana Carolina Moron;Miname, Márcio Hiroshi;Chacra, Ana Paula;Santos, Raul Dias;KRIEGER, Jose Eduardo;Pereira, Alexandre Costa;.SLCO1B1 haplotypes are not associated with atorvastatin-induced myalgia in Brazilian patients with familial hypercholesterolemia. European Journal of Clinical Pharmacology,v.68,273 - 279,2012;
Horimoto, Andréa RVR;Oliveira, Camila M;Giolo, Suely R;SOLER, Júlia P;de Andrade, Mariza;Krieger, José E;Pereira, Alexandre C;.Genetic analyses of smoking initiation, persistence, quantity, and age-at-onset of regular cigarette use in Brazilian families: the Baependi Heart Study. BMC Medical Genetics (Online),v.13,9,2012;
Carneiro, Marcia M.;Miname, Marcio H.;Gagliardi, Ana C.;Pereira, Carolina;Pereira, Alexandre C.;Krieger, Jose E.;Maranhão, Raul C.;Santos, Raul D.;.The removal from plasma of chylomicrons and remnants is reduced in heterozygous familial hypercholesterolemia subjects with identified LDL receptor mutations: Study with artificial emulsions. Atherosclerosis (Amsterdam),v.221,268 - 274,2012;
Ferreira, Noely E.;Omae, Samantha;Pereira, Abel;Rodrigues, Mariliza V.;Miyakawa, Ayumi A.;Campos, Luciene C.G.;Santos, Paulo C.J.L.;Dallan, Luiz A.;Martinez, Tânia L.;Santos, Raul D.;Mill, José G.;Krieger, José E.;Pereira, Alexandre C.;.Thioredoxin interacting protein genetic variation is associated with diabetes and hypertension in the Brazilian general population. Atherosclerosis (Amsterdam),v.221,131 - 136,2012;
de Lima Santos, Paulo Caleb Júnior;Pereira, Alexandre C.;Cançado, Rodolfo D.;Schettert, Isolmar T.;Hirata, Rosario D.C.;Hirata, Mario H.;Figueiredo, Maria Stella;Chiattone, Carlos S.;Krieger, Jose E.;Guerra-Shinohara, Elvira M.;.Hemojuvelin and Hepcidin Genes Sequencing in Brazilian Patients with Primary Iron Overload. GENET TEST MOL BIOMA,v.14,803 - 806,2010;
Bressan, Fabiana Fernandes;dos Santos Miranda, Moyses;Perecin, Felipe;De Bem, Tiago Henrique;Pereira, Flavia Thomaz Verechia;Russo-Carbolante, Elisa Maria;Alves, Daiani;Strauss, Bryan;Bajgelman, Marcio;Krieger, José E;Binelli, Mario;Meirelles, Flavio Vieira;.Improved Production of Genetically Modified Fetuses with Homogeneous Transgene Expression After Transgene Integration Site Analysis and Recloning in Cattle. Cellular Reprogramming,v.13,29 - 36,2011;
Canale, Daniele;Rodrigues, Mariliza V;Ferreira, Daniele N;Machado, Flavia G;Veras, Mariana M;Malheiros, Denise M A C;Krieger, José E;Fujihara, Clarice K;Venturini, Gabriela;Zatz, Roberto;.Programmed hypertension in rats treated with a NF-κB inhibitor during nephrogenesis: renal mechanisms. Hypertension Research,v.34,693 - 700,2011;
SILVA, BRUNO M.;NEVES, FABRICIA J.;NEGRÃO, MARCELO V.;Alves, Cleber R.;DIAS, RODRIGO G.;Alves, Guilherme B.;Pereira, Alexandre C.;Rondon, Maria U.;Krieger, José E.;NEGRÃO, CARLOS E.;DA NÓBREGA, ANTONIO CLAUDIO LUCAS;.Endothelial Nitric Oxide Synthase Polymorphisms and Adaptation of Parasympathetic Modulation to Exercise Training. Medicine and Science in Sports and Exercise,v.43,1611 - 1618,2011;
Santos, Paulo Caleb Junior Lima;Soares, Renata Alonso Gadi;KRIEGER, Jose Eduardo;Guerra-Shinohara, Elvira Maria;Pereira, Alexandre Costa;.Genotyping of the hemochromatosis p.H63D and p.C282Y mutations by high-resolution melting with the Rotor-Gene 6000 instrument. Clinical Chemistry and Laboratory Medicine,v.49,1633 - 1636,2011;
Ferreira-Melo, Silvia Elaine;Demacq, Caroline;LACCHINI, Silvia;Krieger, José Eduardo;IRIGOYEN, Maria Cláudia;Moreno, Heitor;.Sildenafil preserves diastolic relaxation after reduction by L-NAME and increases phosphodiesterase-5 in the intercalated discs of cardiac myocytes and arterioles. Clinics (USP. Impresso),v.66,1253 - 1258,2011;
Schreiber, Roberto;Ferreira-Sae, Maria C;Ronchi, Juliana A;Pio-Magalhães, José A;Cipolli, José A;Matos-Souza, José R;Mill, José G;Vercesi, Aníbal E;Krieger, José E;Franchini, Kleber G;Pereira, Alexandre C;Nadruz Junior, Wilson;.The C242T polymorphism of the p22-phox gene (CYBA) is associated with higher left ventricular mass in Brazilian hypertensive patients. BMC Medical Genetics (Online),v.12,114,2011;
Assad, Renato S.;Atik, Fernando A.;Oliveira, Fernanda S.;Fonseca-Alaniz, Miriam H.;Abduch, Maria C.D.;Silva, Gustavo J.J.;Favaro, Gustavo G.;Krieger, Jose E.;Stolf, Noedir A.G.;.Reversible pulmonary trunk banding. VI: Glucose-6-phosphate dehydrogenase activity in rapid ventricular hypertrophy in young goats. Journal of Thoracic and Cardiovascular Surgery (Print),v.142,1108 - 1113.e1,2011;
Santos, Paulo CJL;Soares, Renata AG;Nascimento, Raimundo M;Machado-Coelho, George LL;Mill, José G;Krieger, José E;Pereira, Alexandre C;.SLCO1B1 rs4149056 polymorphism associated with statin-induced myopathy is differently distributed according to ethnicity in the Brazilian general population: Amerindians as a high risk ethnic group. BMC Medical Genetics (Online),v.12,136,2011;
Horimoto, Andrea R V R;Giolo, Suely R;Oliveira, Camila M;Alvim, Rafael O;Soler, Julia P;de Andrade, Mariza;Krieger, Jose E;Pereira, Alexandre C;.Heritability of physical activity traits in Brazilian families: the Baependi Heart Study. BMC Medical Genetics (Online),v.12,155,2011;
MEDEIROS, Alessandra;Biagi, Diogo G.;Sobreira, Tiago J.P.;de Oliveira, Paulo Sérgio L.;NEGRÃO, Carlos Eduardo;Mansur, Alfredo J.;Krieger, José Eduardo;Brum, Patricia C.;Pereira, Alexandre C.;.Mutations in the human phospholamban gene in patients with heart failure. The American Heart Journal,v.162,1088 - 1095.e1,2011;
Santos, Paulo C.J.L.;Cançado, Rodolfo D.;Pereira, Alexandre C.;Schettert, Isolmar T.;Soares, Renata A.G.;Pagliusi, Regina A.;Hirata, Rosario D.C.;Hirata, Mario H.;Teixeira, Ana C.;Figueiredo, Maria Stella;Chiattone, Carlos S.;Krieger, Jose E.;Guerra-Shinohara, Elvira M.;.Hereditary hemochromatosis: Mutations in genes involved in iron homeostasis in Brazilian patients. Blood Cells, Molecules & Diseases (Print),v.46,302 - 307,2011;
Fernandes, T.;Hashimoto, N. Y.;MAGALHAES, F. C.;Fernandes, F. B.;Casarini, D. E.;Carmona, A. K.;Krieger, J. E.;Phillips, M. I.;Oliveira, E. M.;.Aerobic Exercise Training-Induced Left Ventricular Hypertrophy Involves Regulatory MicroRNAs, Decreased Angiotensin-Converting Enzyme-Angiotensin II, and Synergistic Regulation of Angiotensin-Converting Enzyme 2-Angiotensin (1-7). Hypertension (Dallas, Tex. 1979),v.58,182 - 189,2011;
Giolo, Suely R;Soler, Júlia M P;Greenway, Steven C;Almeida, Marcio A A;de Andrade, Mariza;Seidman, J G;Seidman, Christine E;Krieger, José E;Pereira, Alexandre C;.Brazilian urban population genetic structure reveals a high degree of admixture. European Journal of Human Genetics,v.20,111 - 116,2011;
Barauna, Valerio Garrone;CAMPOS, Luciene Cristina Gastalho;MIYAKAWA, Ayumi Aurea;KRIEGER, Jose Eduardo;.ACE as a Mechanosensor to Shear Stress Influences the Control of Its Own Regulation via Phosphorylation of Cytoplasmic Ser1270. Plos One,v.6,e22803,2011;
Rudnicki, M.;Faine, L. A.;Dehne, N.;Namgaladze, D.;Ferderbar, S.;Weinlich, R.;Amarante-Mendes, G. P.;Yan, C. Y. I.;Krieger, J. E.;Brune, B.;Abdalla, D. S. P.;.Hypoxia Inducible Factor-Dependent Regulation of Angiogenesis by Nitro-Fatty Acids. Arteriosclerosis, Thrombosis, and Vascular Biology,v.31,1360 - 1367,2011;
Yugar-Toledo, Juan Carlos;Martin, José Fernando Vilela;Krieger, José Eduardo;Pereira, Alexandre C;Demacq, Caroline;Coelho, Otávio Rizzi;Pimenta, Eduardo;Calhoun, David A.;Júnior, Heitor Moreno;.Gene Variation in Resistant Hypertension: Multilocus Analysis of the Angiotensin 1-Converting Enzyme, Angiotensinogen, and Endothelial Nitric Oxide Synthase Genes. DNA and Cell Biology,v.30,555 - 564,2011;
VASQUES, Luciana dos Reis;Pujiz, Regiane Simoni;STRAUSS, Bryan Eric;Krieger, José Eduardo;.Knockdown of E2f1 by RNA interference impairs proliferation of rat cells in vitro. Genetics and Molecular Biology (Impresso),v.33,17 - 22,2010;
Brasil, Amanda Salem;Pereira, Alexandre C.;Wanderley, Luciana Turolla;KIM, Chong Ae;Malaquias, Alexsandra C.;Jorge, Alexander A.L.;Krieger, José Eduardo;BERTOLA, Débora Romeo;.and Gene Analysis in Patients with Noonan and Noonan-Like Syndromes. Genetic Testing and Molecular Biomarkers (Print),v.14,425 - 432,2010;
DANOVIZ, Maria Elena;BASSANEZE, Vinícius;NAKAMUTA, Juliana Sanajotti;dos Santos-Junior, Gabriel Ribeiro;Saint-Clair, Danilo;Bajgelman, Márcio Chaim;Faé, Kellen Cristhina;Kalil, Jorge;MIYAKAWA, Ayumi Aurea;Krieger, José Eduardo;.Adipose Tissue Derived Stem Cells from Humans and Mice Differ in Proliferative Capacity and Genome Stability in Long-Term Cultures. Stem Cells and Development,v.20,661 - 670,2011;
Santos, Paulo C.J.L.;Pereira, Alexandre C.;Cançado, Rodolfo D.;Schettert, Isolmar T.;Sobreira, Tiago J.P.;Oliveira, Paulo S.L.;Hirata, Rosario D.C.;Hirata, Mario H.;Figueiredo, Maria Stella;Chiattone, Carlos S.;Krieger, J. E.;.HFE gene mutations in patients with primary iron overload: Is there a significant improvement in molecular diagnosis yield with HFE sequencing?. Blood Cells, Molecules & Diseases (Print),v.45,302 - 307,2010;
Costa-Junior, Helio Miranda;Garavello, Nicole Milare?;Duarte, Mariana Lemos;Berti, Denise Aparecida;GLASER, Talita;Andrade, Alexander de;LABATE, Carlos A.;Ferreira, Andre? Teixeira da Silva;Perales, Jonas Enrique Aguilar;Xavier-Neto, Jose?;Krieger, Jose? Eduardo;SCHECHTMAN, Deborah;Krieger, J. E.;.Phosphoproteomics Profiling Suggests a Role for Nuclear ??PKC in Transcription Processes of Undifferentiated Murine Embryonic Stem Cells. Journal of Proteome Research (Print),v.9,6191 - 6206,2010;
Luciani, Nathalie;Brasse-Lagnel, Carole;Poli, Maura;Anty, Rodolphe;Lesueur, Celine;Cormont, Mireille;Laquerriere, Annie;Folope, Vanessa;LeMarchand-Brustel, Yannick;Gugenheim, Jean;Gual, Philippe;Tran, Albert;Bekri, Soumeya;Krieger, J. E.;.Hemojuvelin: A New Link Between Obesity and Iron Homeostasis. Obesity (Silver Spring, Md.),v.19,1545 - 1551,2011;
Gowdak, Luís Henrique Wolff;SCHETTERT, Isolmar Tadeu;ROCHITTE, Carlos Eduardo;Lisboa, Luiz Augusto Ferreira;Dallan, Luís Alberto Oliveira;CÉSAR, Luiz Antônio Machado;Oliveira, Sérgio Almeida;Krieger, José Eduardo;.Early Increase in Myocardial Perfusion After Stem Cell Therapy in Patients Undergoing Incomplete Coronary Artery Bypass Surgery. J CARDIOVASC TRANSL,v.4,106 - 113,2011;
Santos, Paulo Caleb J.L.;Cançado, Rodolfo D.;Pereira, Alexandre C.;Chiattone, Carlos S.;KRIEGER, Jose Eduardo;Guerra-Shinohara, Elvira M.;.HJV Hemochromatosis, Iron Overload, and Hypogonadism in a Brazilian Man: Treatment with Phlebotomy and Deferasirox. Acta Haematologica,v.124,204 - 205,2010;
Pereira, T. V.;Patsopoulos, N. A.;PEREIRA, A. C.;Krieger, J. E.;.Strategies for genetic model specification in the screening of genome-wide meta-analysis signals for further replication. International Journal of Epidemiology,v.40,457 - 469,2011;
de Lima Santos, Paulo Caleb Júnior;de Oliveira Alvim, Rafael;Ferreira, Noely Evangelista;de Sá Cunha, Roberto;Krieger, José Eduardo;MILL, José Geraldo;Pereira, Alexandre Costa;.Ethnicity and Arterial Stiffness in Brazil. American Journal of Hypertension,v.24,278 - 284,2010;
Santos, Paulo CJL;Soares, Renata AG;Santos, Diogo BG;Nascimento, Raimundo M;Coelho, George LLM;Nicolau, José C;Mill, José G;Krieger, José E;Pereira, Alexandre C;.CYP2C19 and ABCB1 gene polymorphisms are differently distributed according to ethnicity in the Brazilian general population. BMC Medical Genetics (Online),v.12,13,2011;
Almeida, Marcio AA;Oliveira, Paulo SL;Pereira, Tiago V;Krieger, José E;Pereira, Alexandre C;.An empirical evaluation of imputation accuracy for association statistics reveals increased type-I error rates in genome-wide associations. BMC Genetics (Online),v.12,10,2011;
Sousa, André Gustavo P.;Lopes, Neuza H.;Hueb, Whady A.;Krieger, José Eduardo;Pereira, Alexandre C.;.Genetic Variants of Diabetes Risk and Incident Cardiovascular Events in Chronic Coronary Artery Disease. Plos One,v.6,e16341,2011;
Brasil, Amanda Salem;Malaquias, Alexsandra C.;Wanderley, Luciana Turolla;KIM, Chong Ae;Krieger, José Eduardo;Jorge, Alexander A. L.;Pereira, Alexandre C.;BERTOLA, Débora Romeo;.Co-occurring PTPN11 and SOS1 gene mutations in Noonan syndrome: does this predict a more severe phenotype?. Arquivos Brasileiros de Endocrinologia e Metabologia (Impresso),v.54,717 - 722,2010;
Giolo, Suely R;Pereira, Alexandre C;de Andrade, Mariza;Krieger, Jose E;Soler, Julia P;.Evaluating gene by sex and age interactions on cardiovascular risk factors in Brazilian families. BMC Medical Genetics (Online),v.11,132,2010;
Alvim, Rafael O;Freitas, Silvia RS;Ferreira, Noely E;Santos, Paulo CJL;Cunha, Roberto S;Mill, José G;Krieger, José E;Pereira, Alexandre C;.APOE polymorphism is associated with lipid profile, but not with arterial stiffness in the general population. Lipids in health and disease,v.9,128,2010;
Valente, Acrisio Sales;ASSAD, Renato Samy;Abduch, Maria Cristina D.;Silva, Gustavo J. J.;Thomaz, Petronio G.;Miana, Leonardo A.;KRIEGER, Jose Eduardo;Stolf, Noedir A. G.;.Bandagem reversível do tronco pulmonar IV: análise da hipertrofia aguda do ventrículo direito em modelo experimental de sobrecarga intermitente. Revista Brasileira de Cirurgia Cardiovascular,v.23,60 - 69,2008;
PEREIRA, M. G.;Ferreira, J. C. B.;Bueno, C. R.;MATTOS, K. C.;Rosa, K. T.;Irigoyen, M. C.;Oliveira, E. M.;Krieger, J. E.;Brum, Patricia Chakur;.Exercise training reduces cardiac angiotensin II levels and prevents cardiac dysfunction in a genetic model of sympathetic hyperactivity-induced heart failure in mice. European Journal of Applied Physiology,v.105,843 - 850,2009;
Danoviz, Maria E.;Nakamuta, Juliana S.;Marques, Fabio L. N.;dos Santos, Leonardo;Alvarenga, Erica C.;dos Santos, Alexandra A.;Antonio, Ednei L.;Schettert, Isolmar T.;Tucci, Paulo J.;Krieger, Jose E.;.Rat Adipose Tissue-Derived Stem Cells Transplantation Attenuates Cardiac Dysfunction Post Infarction and Biopolymers Enhance Cell Retention. Plos One,v.5,e12077,2010;
Santos, Diogo GB;Resende, Marina F;Mill, José G;Mansur, Alfredo J;Krieger, José E;Pereira, Alexandre C;.Nuclear Factor (NF) ?B polymorphism is associated with heart function in patients with heart failure. BMC Medical Genetics (Online),v.11,89,2010;
Sbruzzi, Ivanete C.;Pereira, Alexandre C.;Vasconcelos, Beatriz;Honjo, Raquel S.;Krieger, José E.;Kim, Chong A.;.Williams-Beuren Syndrome: Diagnosis by Polymorphic Markers. Genetic Testing and Molecular Biomarkers (Print),v.14,209 - 214,2010;
Rodrigues, Sérgio Lamego;Baldo, Marcelo Perim;Sá Cunha, Roberto;Angelo, Lílian CS;Pereira, Alexandre C;Krieger, José Eduardo;MILL, José Geraldo;.Anthropometric measures of increased central and overall adiposity in association with echocardiographic left ventricular hypertrophy. Hypertension Research,v.33,83 - 87,2009;
NEGRAO, M. V.;Alves, C. R.;Alves, G. B.;PEREIRA, A. C.;Dias, R. G.;LATERZA, M. C.;Mota, G. F.;Oliveira, E. M.;Bassaneze, V.;KRIEGER, Jose Eduardo;Negrao, C. E.;RONDON, M. U.;.Exercise training improves muscle vasodilatation in individuals with T786C polymorphism of endothelial nitric oxide synthase gene. Physiological Genomics (Print),v.42,71 - 77,2010;
Mummery, C. L.;Davis, R. P.;Krieger, J. E.;.Challenges in Using Stem Cells for Cardiac Repair. Science Translational Medicine,v.2,27ps17 - 27ps17,2010;
Malafronte, P.;VIEIRA, J. M.;PEREIRA, A. C.;Krieger, J. E.;Barros, R. T.;Woronik, V.;.Association of the MCP-1 -2518 A/G Polymorphism and No Association of Its Receptor CCR2 -64 V/I Polymorphism with Lupus Nephritis. Journal of Rheumatology,v.37,776 - 782,2010;
Gonçalves, G A;Vassallo, P F;dos Santos, L;Schettert, I T;Nakamuta, J S;Becker, C;Tucci, P J F;Krieger, J E;.Intramyocardial transplantation of fibroblasts expressing vascular endothelial growth factor attenuates cardiac dysfunction. Gene Therapy (Basingstoke),v.17,305 - 314,2009;
Gioli-Pereira, Luciana;Pereira, Alexandre Costa;Mesquita, Sônia M.;Xavier-Neto, José;Lopes, Antônio Augusto;Krieger, José Eduardo;.NKX2.5 mutations in patients with non-syndromic congenital heart disease. International Journal of Cardiology (Print),v.138,261 - 265,2010;
Brandão, Sara MG;Schettert, Isolmar T;César, Luiz AM;Krieger, José E;de Oliveira, Sérgio A;Stolf, Noedir AG;Gowdak, Luí.Clinical profile of patients enroled in a cell therapy trial for severe coronary artery disease. Journal of Clinical Nursing,v.19,440 - 446,2010;
Gowdak, Marcia M.G.;Laterza, Mateus C.;Rondon, Maria Urbana P.B.;Trombetta, Ivani C.;Pereira, Alexandre C.;KRIEGER, Jose Eduardo;Negrao, Carlos Eduardo;.A high-fat meal impairs muscle vasodilatation response to mental stress in humans with Glu27 beta2-adrenoceptor polymorphism. Lipids in health and disease,v.9,55,2010;
AZAMBUJA, A. P.;Portillo-Sanchez, V.;RODRIGUES, M. V.;Omae, S. V.;Schechtman, D.;Strauss, B. E.;Costanzi-Strauss, E.;Krieger, J. E.;Perez-Pomares, J. M.;Xavier-Neto, J.;.Retinoic Acid and VEGF Delay Smooth Muscle Relative to Endothelial Differentiation to Coordinate Inner and Outer Coronary Vessel Wall Morphogenesis. Circulation Research,v.107,204 - 216,2010;
Angelo, Lilian C.;Vieira, Marcelo L. C.;Rodrigues, Sergio L.;Morelato, Renato;Pereira, Alexandre C.;Mill, José G.;Krieger, José E.;.Reference Values of Tissue Doppler Imaging and Pulsed Doppler Echocardiography for Analysis of Left Ventricular Diastolic Function in Healthy Adults. Echocardiography (Mount Kisco, N.Y. Print),v.27,777 - 782,2010;
Pires de Sousa, André Gustavo;Pereira, Alexandre Costa;Marquezine, Guilherme Figueiredo;Marques do Nascimento-Neto, Raimundo;Freitas, Silvia N.;C. Nicolato, Roney Luiz;Machado-Coelho, George Luiz Lins;Rodrigues, Sérgio L.;Mill, José G.;Krieger, José Eduardo;.Derivation and external validation of a simple prediction model for the diagnosis of type 2 Diabetes Mellitus in the Brazilian urban population. European Journal of Epidemiology,v.24,101 - 109,2009;
Mansur, Alfredo;Fontes, Rosana;Canzi, Regina;Nishimura, Raphael;Alencar, Airlane;de Lima, Antonio;Krieger, José;Pereira, Alexandre;KRIEGER, Jose Eduardo;.Beta-2 adrenergic receptor gene polymorphisms Gln27Glu, Arg16Gly in patients with heart failure. BMC Cardiovascular Disorders (Online),v.9,50,2009;
Pavan, Marilene;Ruiz, Viviane F;Silva, Fábio A;Sobreira, Tiago J;Cravo, Roberta M;Vasconcelos, Michelle;Marques, Lívia P;Mesquita, Sonia MF;Krieger, José E;Lopes, Antônio AB;Oliveira, Paulo S;Pereira, Alexandre C;Xavier-Neto, José;.ALDH1A2 (RALDH2) genetic variation in human congenital heart disease. BMC Medical Genetics,v.10,113,2009;
Sousa, André Gustavo P.;Marquezine, Guilherme F.;Lemos, Pedro A.;Martinez, Eulogio;Lopes, Neuza;Hueb, Whady A.;Krieger, José E.;Pereira, Alexandre C.;.TCF7L2 Polymorphism rs7903146 Is Associated with Coronary Artery Disease Severity and Mortality. Plos One,v.4,e7697,2009;
Martins, Joilson O.;Zanoni, Fernando L.;Martins, Daniel O.;Coimbra, Raul;Krieger, Jose E.;Jancar, Sonia;Sannomiya, Paulina;.INSULIN REGULATES CYTOKINES AND INTERCELLULAR ADHESION MOLECULE-1 GENE EXPRESSION THROUGH NUCLEAR FACTOR-?B ACTIVATION IN LPS-INDUCED ACUTE LUNG INJURY IN RATS. Shock (Augusta, Ga.),v.31,404 - 409,2009;
NEUKAMM, B.;MIYAKAWA, Ayumi Aurea;S Y Fukada;PACHECO, Fernando Pasquali;SILVA, T.;Ramalho LN;OLIVEIRA, Ana Maria de;KRIEGER, Jose Eduardo;.Local TAT-p27Kip1 fusion protein inhibits cell proliferation in rat carotid arteries. Therapeutic Advances in Cardiovascular Disease (Print),v.2,129 - 136,2008;
Serra, A. J.;Santos, M. l. H. H.;Bocalini, D. S.;Ant nio, E. L.;Levy, R. F.;Santos, A. A.;Higuchi, M. L.;Silva, J. A.;Magalh es, F. v. C.;Bara na, V. r. G.;Krieger, J. E.;Tucci, P. J. F.;.Exercise training inhibits inflammatory cytokines and more than prevents myocardial dysfunction in rats with sustained  -adrenergic hyperactivity. Journal of Physiology (London. Print),v.588,2431 - 2442,2010;
Oliveira, E. M.;Sasaki, M. S.;Cerencio, M.;Barauna, V. G.;Krieger, J. E.;.Local renin-angiotensin system regulates left ventricular hypertrophy induced by swimming training independent of circulating renin: a pharmacological study. JRAAS. Journal of the Renin-Angiotensin-Aldosterone System,v.10,15 - 23,2009;
Buck, P.C.;Fernandes, F.;Arteaga, E.;Matsumoto, A.Y.;Araujo, A.Q.;Oliveira, E.M.;Ianni, B.M.;Ramires, F.J.A.;Krieger, J.E.;Mady, C.;Krieger, J. E.;.Association of angiotensin-converting enzyme activity and polymorphism with echocardiographic measures in familial and nonfamilial hypertrophic cardiomyopathy. Brazilian Journal of Medical and Biological Research,v.42,717 - 721,2009;
Freitas, S R;PEREIRA, A C;Floriano, M S;Mill, J G;Krieger, J E;.Insertion/deletion polymorphism of the bradykinin type 2 receptor gene influence diastolic blood pressure. Journal of Human Hypertension,v.23,553 - 555,2009;
Alves, Guilherme B.;Oliveira, Edilamar M.;Alves, Cleber R.;Rached, Heron R.S.;Mota, Glória F.A.;Pereira, Alexandre C.;Rondon, Maria U.;Hashimoto, Nara Y.;Azevedo, Luciene F.;Krieger, José Eduardo;NEGRÃO, Carlos Eduardo;.Influence of angiotensinogen and angiotensin-converting enzyme polymorphisms on cardiac hypertrophy and improvement on maximal aerobic capacity caused by exercise training. European Journal of Cardiovascular Prevention & Rehabilitation (Print),v.16,487 - 492,2009;
Maciel, Simone S.;Pereira, Alexandre da C.;Silva, Gustavo J.J.;Rodrigues, Mariliza V.;Mill, José G.;Krieger, Jose E.;.Association between glutathione S-transferase polymorphisms and triglycerides and HDL-cholesterol. Atherosclerosis (Amsterdam),v.206,204 - 208,2009;
Schettert, Isolmar T.;Pereira, Alexandre C.;Lopes, Neuza H.;Hueb, Whady A.;Krieger, Jose E.;.Association between ADAMTS13 polymorphisms and risk of cardiovascular events in chronic coronary disease. Thrombosis Research,v.125,61 - 66,2010;
Ruiz Giolo, Suely;Costa Pereira, Alexandre;de Andrade, Mariza;Maciel de Oliveira, Camila;Krieger, Jos&Pavan Soler, J&Krieger, J. E.;.Genetic Analysis of Age-at-Onset for Cardiovascular Risk Factors in a Brazilian Family Study. Human Heredity,v.68,131 - 138,2009;
Koyama, Renata G.;Drager, Luciano F.;Lorenzi-Filho, Geraldo;Cintra, Fátima D.;Pereira, Alexandre C.;Poyares, Dalva;Krieger, José Eduardo;Castro, Rosa M.R.P.S.;Tufik, Sérgio;de Mello, Marco Túlio;.Reciprocal interactions of obstructive sleep apnea and hypertension associated with ACE I/D polymorphism in males. Sleep Medicine,v.10,1107 - 1111,2009;
Nakamuta, Juliana S.;Danoviz, Maria E.;Marques, Fabio L. N.;dos Santos, Leonardo;Becker, Claudia;Gonçalves, Giovana A.;Vassallo, Paula F.;Schettert, Isolmar T.;Tucci, Paulo J. F.;Krieger, Jose E.;.Cell Therapy Attenuates Cardiac Dysfunction Post Myocardial Infarction: Effect of Timing, Routes of Injection and a Fibrin Scaffold. Plos One,v.4,e6005,2009;
Blande, Ivan Souza;BASSANEZE, Vinicius;Lavini-Ramos, Carolina;Fae, Kellen Cristhina;Kalil, Jorge;MIYAKAWA, Ayumi Aurea;SCHETTERT, Isolmar Tadeu;KRIEGER, Jose Eduardo;.TRANSPLANTATION AND CELLULAR ENGINEERING: Adipose tissue mesenchymal stem cell expansion in animal serum-free medium supplemented with autologous human platelet lysate. Transfusion (Arlington, Va.),v.49,2680 - 2685,2009;
Meyerfreund, Diana;Gonçalves, Christine P;Cunha, Roberto S;Pereira, Alexandre C;Krieger, José E;Mill, José G;.Age-dependent increase in blood pressure in two different Native American communities in Brazil. Journal of Hypertension,v.27,1753 - 1760,2009;
BASSANEZE, Vinícius;Barauna, Valério Garrone;Lavini-Ramos, Carolina;Kalil, Jorge;SCHETTERT, Isolmar Tadeu;MIYAKAWA, Ayumi Aurea;Krieger, José Eduardo;.Shear Stress Induces Nitric Oxide Mediated Vascular Endothelial Growth Factor Production in Human Adipose Tissue Mesenchymal Stem Cells. Stem Cells and Development,v.19,371 - 378,2010;
BORIN, Thaiz Ferraz;MIYAKAWA, Ayumi Aurea;CARDOSO, Leandro;De Figueiredo Borges, Luciano;GONÇALVES, Giovana Aparecida;KRIEGER, Jose Eduardo;.Apoptosis, cell proliferation and modulation of cyclin-dependent kinase inhibitor p21cip1 in vascular remodelling during vein arterialization in the rat. International Journal of Experimental Pathology (Print),v.90,328 - 337,2009;
dos Santos, Leonardo;Santos, Alexandra A.;Gonçalves, Giovana A.;Krieger, José Eduardo;TUCCI, Paulo José Ferreira;.Bone marrow cell therapy prevents infarct expansion and improves border zone remodeling after coronary occlusion in rats?. International Journal of Cardiology (Print),v.145,34 - 39,2010;
Santos, Diogo GB;MEDEIROS, Alessandra;BRUM, Patrícia C;Mill, José G;Mansur, Alfredo J;Krieger, José E;Pereira, Alexandre C;.No evidence for an association between the -36A>C phospholamban gene polymorphism and a worse prognosis in heart failure. BMC Cardiovascular Disorders (Online),v.9,33,2009;
Rodrigues, Sérgio Lamêgo;Ângelo, Lílian C.S.;Pereira, Alexandre C.;Krieger, José Eduardo;MILL, José Geraldo;.Determinants of left ventricular mass and presence of metabolic risk factors in normotensive individuals. International Journal of Cardiology (Print),v.135,323 - 330,2009;
Campos, L. C. G.;Miyakawa, A. A.;Barauna, V. G.;Cardoso, L.;Borin, T. F.;Dallan, L. A. d. O.;Krieger, J. E.;.Induction of CRP3/MLP expression during vein arterialization is dependent on stretch rather than shear stress. Cardiovascular Research,v.83,140 - 147,2009;
Marquezine, Guilherme F;Pereira, Alexandre C;Sousa, Andre GP;Mill, Jose G;Hueb, Whady A;Krieger, Jose E;.TCF7L2 variant genotypes and type 2 diabetes risk in Brazil: significant association, but not a significant tool for risk stratification in the general population. BMC Medical Genetics,v.9,106,2008;
Freitas, Silvia R;Pereira, Alexandre C;Floriano, Marcilene S;Mill, José G;Krieger, José E;.Association of alpha1a-adrenergic receptor polymorphism and blood pressure phenotypes in the Brazilian population. BMC Cardiovascular Disorders (Online),v.8,40,2008;
Sposito, Andrei C.;Santos, Raul D.;Abdalla, Dulcinéia S.P.;Moreira, Agnaluce;Lima, Jose C.;Pereira, Alexandre C.;Krieger, Jose E.;Martinez, Tania R.L.;Ramires, Jose A.F.;Pereira, Abel;.Plasma cholesterol is involved in the setting of resting blood pressure: A study in hypercholesterolemic young subjects and in monozygotic twins. International Journal of Cardiology (Print),v.144,88 - 89,2010;
Aneas, I.;RODRIGUES, M. V.;Pauletti, B. A.;Silva, G. J. J.;Carmona, R.;Cardoso, L.;KWITEK, A. E.;Jacob, H. J.;Soler, J. M. P.;Krieger, J. E.;.Congenic strains provide evidence that four mapped loci in chromosomes 2, 4, and 16 influence hypertension in the SHR. Physiological Genomics (Print),v.37,52 - 57,2009;
Costa-Junior, Helio Miranda;Suetsugu, Mariana J.;Krieger, José Eduardo;SCHECHTMAN, Deborah;.Specific modulation of protein kinase activity via small peptides. Regulatory Peptides (Print),v.153,11 - 18,2009;
KRIEGER, Jose Eduardo;PEREIRA, A. C.;BRASIL, D. P.;Borges J L;GL Machado-Coelho;NASCIMENTO-NETO, R. M.;Chagas A C;.Prevalência e fatores de risco associados à doença arterial periférica no projeto corações do Brasil. Arquivos Brasileiros de Cardiologia (Impresso),v.91,370 - 382,2008;
SOUFEN, H. N.;Salemi VM;ANEAS, I. M.;RAMIRES, Félix José A;AM Benício;BENVENUTI, L.;KRIEGER, Jose Eduardo;C, Mady;.Collagen content, but not the ratios of collagen type III/I mRNAs, differs among hypertensive, alcoholic, and idiopathic dilated cardiomyopathy.. Brazilian Journal of Medical and Biological Research,v.41,1098 - 1104,2008;
Dias, R. G.;Alves, M.-J. N. N.;PEREIRA, A. C.;Rondon, M. U. P. B.;dos Santos, M. R.;Krieger, J. E.;KRIEGER, M. H.;Negrao, C. E.;.Glu298Asp eNOS gene polymorphism causes attenuation in nonexercising muscle vasodilatation. Physiological Genomics (Print),v.37,99 - 107,2009;
Lacchini, S.;Heimann, A. S.;Evangelista, F. S.;Cardoso, L.;Silva, G. J. J.;Krieger, J. E.;.Cuff-induced vascular intima thickening is influenced by titration of the Ace gene in mice. Physiological Genomics (Print),v.37,225 - 230,2009;
KRIEGER, Jose Eduardo;DALLAN, Luis Alberto O;LACCHINI, Silvia;TF, Borin;.Human saphenous vein organ culture under controlled hemodynamic conditions. Clinics (USP. Impresso),v.63,683 - 688,2008;
KRIEGER, Jose Eduardo;GOWDAK, Luís Henrique W.;LISBOA, L. A.;SCHETTERT, Isolmar Tadeu;CÉSAR, Luiz Antônio Machado;OLIVEIRA, Sérgio Almeida de;Noedir A Stolf;.Terapia celular associada à revascularização transmiocárdica laser como proposta no tratamento da angina refratária. Revista Brasileira de Cirurgia Cardiovascular (Impresso),v.23,46 - 52,2008;
VALENTE, A. S.;ASSAD, Renato Samy;Abduch MC;Gustavo Justo da Silva;Thomaz PG;Miana LA;KRIEGER, Jose Eduardo;Noedir A Stolf;.IV Pulmonary trunk reversible banding: analysis of right ventricle acute hypertrophy in an intermittent loading experimental model. Revista Brasileira de Cirurgia Cardiovascular,v.23,60 - 69,2008;
KRIEGER, Jose Eduardo;ROMAN, R. J.;AW JR, C.;.Angiotensin Converting Enzyme and Genetic Hypertension: Cloning of Rat cDNAs and Characterization of the Enzyme. Brazilian Journal of Medical and Biological Research (Impresso),v.18,61 - 67,1985;
KOIKE, G.;KRIEGER, Jose Eduardo;JACOB, Howard J;MUKOYAMA, M.;PRATT, R. E.;DZAU, V. J.;.Angiotensin Converting Enzyme and Genetic Hypertension: Cloning of Rat cDNAs and Characterization of the Enzyme. Biochemical and Biophysical Research Communications,v.198,380 - 386,1994;
PEREIRA, A. C.;CUOCO, Marco Antonio Romeo;MOTA, G.;Da Silva FF;FREITAS, Humberto Felicio Gonçalves de;Bocchi EA;SOLER, Júlia Maria;AJ, Mansur;KRIEGER, Jose Eduardo;.Hemochromatosis Gene Variants in Patients with Cardiomyopathy. The American Journal of Cardiology,v.88,388 - 391,2001;
Camargo AA;Samaia HP;Dias-Neto E;Simão DF;Simpson AJ;KRIEGER, Jose Eduardo;ET, A.;.The Contribution of 700,000 ORF Sequence Tags to the Definition of the Human Transcriptome. Proceedings of the National Academy of Sciences of the United States of America,v.98,12103 - 12108,2001;
BRENTANI, Helena;Catallero OL;Camargo AA;da Silva, AM;SILVA JR, W. A.;Dias Neto E;Grivet M;Guimarães PE;Hide W;Iseli C;Jongeneel CV;Kelso J;Nagai MA;OJOPI, Elida B;Osorio EC;Reis EM;Riggins GJ;Simpson AJ;KRIEGER, Jose Eduardo;ET, A.;.The Generation and Utilization of a Cancer-Oriented Representation of the Human Transcriptome by Using Expressed Sequence Tags. Proceedings of the National Academy of Sciences of the United States of America,v.100,13418 - 13423,2003;
Girão Faria, Mário Henrique;Barem Rabenhorst, Silvia Helena;PEREIRA, Alexandre da Costa;Krieger, José Eduardo;.A novel TBX5 missense mutation (V263M) in a family with atrial septal defects and postaxial hexodactyly. International Journal of Cardiology (Print),v.130,30 - 35,2008;
OLIVEIRA, M.;COUTINHO, J.;KRIEGER, Jose Eduardo;RAW, I.;HO, P.;.Site-directed mutagenesis of bovine FGF-2 cDNA allows the production of the human-form of FGF-2 in Escherichia coli. Biotechnology Letters,v.23,1151 - 1157,2001;
KRIEGER, Jose Eduardo;HF, M.;GOWDAK, Luís Henrique W;dos Santos RR;Dohmann HF;G Feitosa;VILAS-BOAS, F.;SA, Oliveira;SA Silva;AZ Bozza;R Borojevic;CARVALHO, A. C. C.;.Multicenter randomized trial of cell therapy in cardiopathies - MiHeart Study.. Trials (London),v.8,2,2007;
Silva, Gustavo JJ;Pereira, Alexandre C;Krieger, Eduardo M;Krieger, José E;.Genetic mapping of a new heart rate QTL on chromosome 8 of spontaneously hypertensive rats. BMC Medical Genetics (Online),v.8,17,2007;
KRIEGER, Jose Eduardo;Bacurau AV;EVANGELISTA, F. DE S.;COELHO, M. A.;EM, Oliveira;DE, Casarini;BRUM, Patricia C;.The role of local and systemic renin angiotensin system activation in a genetic model of sympathetic hyperactivity-induced heart failure in mice. American Journal of Physiology. Regulatory, Integrative and Comparative Physiology,v.294,R26 - R32,2007;
BARAUNA, V G;MAGALHAES, F. C.;KRIEGER, Jose Eduardo;EM, Oliveira;.AT1 receptor participates in the cardiac hypertrophy induced by resistance training in rats. American Journal of Physiology. Regulatory, Integrative and Comparative Physiology,v.295,R381 - R387,2008;
KRIEGER, Jose Eduardo;VANZELLI, A. S.;NP Rolin;J C Ferreira;BECHARA, L. R.;Y, T. L.;KT, R.;ALVES, M. M.;A Medeiros;MATOS, K. C.;COELHO, M. A.;MC Irigoyen;KRIEGER, Eduardo Moacyr;NEGRAO, C.;RAMIRES, Paulo Rizzo;GUATIMOSIN, S.;BRUM, Patricia C;.Intracellular mechanisms of specific β-adrenoceptor antagonists involved in improved cardiac function and survival in a genetic model of heart failure. Journal of Molecular and Cellular Cardiology,v.45,240 - 249,2008;
Pereira, T. V.;Nunes, A. C.F.;Rudnicki, M.;Yamada, Y.;PEREIRA, A. C.;Krieger, J. E.;.Meta-Analysis of the Association of 4 Angiotensinogen Polymorphisms With Essential Hypertension: A Role Beyond M235T?. Hypertension (Dallas, Tex. 1979),v.51,778 - 783,2008;
Medeiros, A.;Rolim, N. P. L.;Oliveira, R. S. F.;Rosa, K. T.;MATTOS, K. C.;Casarini, D. E.;Irigoyen, M. C.;Krieger, E. M.;Krieger, J. E.;Negrao, C. E.;Brum, P. C.;.Exercise training delays cardiac dysfunction and prevents calcium handling abnormalities in sympathetic hyperactivity-induced heart failure mice. Journal of Applied Physiology (1985),v.104,103 - 109,2007;
KRIEGER, Jose Eduardo;ANGELO, Lilian Claudia de Souza;Pereira AC;MILL, José Geraldo;.Revisão dos critérios de Sokolow-Lyon-Rappaport e cornell para hipertrofia do ventrículo esquerdo. Arquivos Brasileiros de Cardiologia (Impresso),v.90,46 - 53,2008;
BASSANEZE, V;MIYAKAWA, A;KRIEGER, J;Krieger, J. E.;.A quantitative chemiluminescent method for studying replicative and stress-induced premature senescence in cell cultures. Analytical Biochemistry (Print),v.372,198 - 203,2008;
KRIEGER, Jose Eduardo;SCHETTERT, Isolmar Tadeu;BAPTISTA, E.;LOPES, N. L. G.;ROCHITTE, Carlos Eduardo;VIEIRA, Marcelo Cl;CJ, Grupi;CESAR, L.;Paulo Sérgio de Oliveira;.Intramyocardial injection of autologous bone marrow cells as an adjunctive therapy to incomplete myocardial revascularization: safety issues. Clinics (USP. Impresso),v.63,207 - 214,2008;
KRIEGER, Jose Eduardo;PEREIRA, A C;MOTA, G.;AJ, Mansur;.Polimorfismo genético, terapia farmacológica e função cardíaca seqüencial em pacientes com insuficiência cardíaca. Arquivos Brasileiros de Cardiologia (Impresso),v.90,274 - 279,2008;
KRIEGER, Jose Eduardo;PEREIRA, A. C.;MC, Andrade;SOLER, Júlia Maria;.Heritability of cardiovascular risk factors in a Brazilian population: Baependi Heart Study. BMC Medical Genetics (Online),v.9,32,2008;
Gioli-Pereira, L.;Pereira, A.C.;BERGARA, D.;Mesquita, S.;Lopes, A.A.;Krieger, J.E.;.Frequency of 22q11.2 microdeletion in sporadic non-syndromic tetralogy of Fallot cases?. International Journal of Cardiology (Print),v.126,374 - 378,2008;
GOWDAK, L;SCHETTERT, I;ROCHITTE, C;RIENZO, M;LISBOA, L;DALLAN, L;CESAR, L;KRIEGER, J;RAMIRES, J;DEOLIVEIRA, S;Krieger, J. E.;.Transmyocardial laser revascularization plus cell therapy for refractory angina?. International Journal of Cardiology (Print),v.127,295 - 297,2008;
MARQUEZINE, G;OLIVEIRA, C;PEREIRA, A;KRIEGER, J;MILL, J;Krieger, J. E.;.Metabolic syndrome determinants in an urban population from Brazil: Social class and gender-specific interaction?. International Journal of Cardiology (Print),v.129,259 - 265,2008;
KRIEGER, Jose Eduardo;MIYAKAWA, Ayumi Aurea;LOPES, Neuza H M;SOARES, Paulo R;OLIVEIRA, Sérgio Almeida de;CESAR, L.;RAMIRES, J.;HUEB, Whady;.Dynamic regulation of MTHFR mRNA expression and C677T genotype modulate mortality in coronary artery disease patients after revascularization. Thrombosis Research,v.121,25 - 32,2007;
ROLIM, Natale L P;A Medeiros;KT, R.;K C Mattos;IRIGOYEN, Maria Cláudia;KRIEGER, Eduardo Moacyr;KRIEGER, Jose Eduardo;NEGRAO, C.;BRUM, Patricia C;.Exercise training improves the net balance of cardiac Ca2+ handling protein expression in heart failure. Physiological Genomics,v.29,246 - 252,2007;
KRIEGER, Jose Eduardo;CARMO, E. C.;Roque FR;Hashimoto NY;Rossoni LV;Frimm C;ANÉAS, Ivy;NEGRAO, C.;EM, Oliveira;.Anabolic steroids induce cardiac renin-angiotensin system and impair the beneficial effects of aerobic training in rats. American Journal of Physiology. Heart and Circulatory Physiology,v.293,H3575 - H3583,2007;
KRIEGER, Jose Eduardo;S Ferreira;AA Lima;RL Nicolato;SN de Freitas;P Brandao;PEREIRA, A. C.;Nascimento-Neto RM;GL Machado-Coelho;.Lipoprotein(a) as a risk factor associated with ischemic heart disease: Ouro Preto Study. Atherosclerosis (Amsterdam),v.191,454 - 459,2007;
KRIEGER, Jose Eduardo;F M amaral;RAMIRES, J.;EG Rossi;M Grinberg;MR Bortolotto;Mady C;M Zugaib;.Influência da gestação na evolução clínica materno-fetal de portadoras de cardiomiopatia hipertrófica. Arquivos Brasileiros de Cardiologia (Impresso),v.88,480 - 485,2007;
KRIEGER, Jose Eduardo;RUDNICKI, M;BM Cheung;L Baum;Yamada Y;P S de Oliveira;PEREIRA, A. C.;.Three endothelial nitric oxide (NOS3) gene polymorphisms in hypertensive and normotensive individuals: meta-analysis of 53 studies reveals evidence of publication bias. Journal of Hypertension,v.25,1763 - 1774,2007;
KRIEGER, Jose Eduardo;PEREIRA, A. C.;MOTA, G.;Laudanna AA;.Lactase persistence/non-persistence variants, C/T_13910 and G/A_22018, as a diagnostic tool for lactose intolerance in IBS patients. Clinica Chimica Acta (Print),v.386,7 - 11,2007;
KRIEGER, Jose Eduardo;Marcelo L Campos Vieira;Sérgio L Rodrigues;Renato Lírio Morelato;PEREIRA, A. C.;MILL, José Geraldo;.Valores de referência de medidas ecocardiográficas em amostra da população brasileira adulta assintomática. Arquivos Brasileiros de Cardiologia (Impresso),v.89,184 - 190,2007;
KRIEGER, Jose Eduardo;M Rudnicki;RF Franco;PEREIRA, A. C.;.Effect of the G-308A polymorphism of the tumor necrosis factor α gene on the risk of ischemic heart disease and ischemic stroke: A meta-analysis. The American Heart Journal,v.153,821 - 830,2007;
KRIEGER, Jose Eduardo;PEREIRA, Alexandre da Costa;AS Brasil;LM, Albano;CA, Kim;.Further evidence of genetic heterogeneity in Costello syndrome: involvement of the KRAS gene. Journal of Human Genetics (Print),v.52,521 - 526,2007;
KRIEGER, Jose Eduardo;JM Albuquerque;PEREIRA, A C;Noedir A Stolf;MADY, Charles;OLIVEIRA, Sérgio Almeida de;.Holt-Oram syndrome presenting as agenesis of the left pericardium. International Journal of Cardiology (Print),v.114,98 - 100,2007;
KRIEGER, Jose Eduardo;PEREIRA, A C;LOPES, Neuza H M;HUEB, Whady;.Association between platelet P2Y12 haplotype and risk of cardiovascular events in chronic coronary disease. Thrombosis Research,v.118,679 - 683,2006;
KRIEGER, Jose Eduardo;PEREIRA, Alexandre da Costa;BARRETO FILHO, José Augusto Soares;AC, Figueiredo;KRIEGER, Eduardo Moacyr;G, Lorenzi-filho;.Phenotypic characteristics associated with hypertension in patients with obstructive sleep apnea. Journal of Human Hypertension,v.20,523 - 528,2006;
KRIEGER, Jose Eduardo;LACCHINI, Silvia;AR Muotri;Gustavo Justo da Silva;JB Castelli;VASSALLO, Paula F;MENCK, Carlos Frederico;.Skeletal muscle cells expressing VEGF induce capillary formation and reduce cardiac injury in rats. International Journal of Cardiology (Print),v.113,348 - 354,2006;
KRIEGER, Jose Eduardo;ME Silva;E Yeh;CM Maranduba;B Folco;W Takahashi;PEREIRA, A C;MR Passos-Bueno;.Effect of polymorphisms of the MTHFR and APOE genes on susceptibility to diabetes and severity of diabetic retinopathy in Brazilian patients. Brazilian Journal of Medical and Biological Research (Impresso),v.39,883 - 888,2006;
EJ Monteiro;PEREIRA, A C;Aparecido B Pereira;KRIEGER, Jose Eduardo;G Mastroianni-Kirsztajn;.NPHS2 mutations in adult patients with primary focal segmental glomerulosclerosis. American Journal of Nephrology,v.19,366 - 371,2006;
Gustavo Justo da Silva;MOREIRA, Edson Dias;PEREIRA, A C;MILL, José Geraldo;KRIEGER, Eduardo Moacyr;KRIEGER, Jose Eduardo;.ACE gene dosage modulates pressure-induced cardiac hypertrophy in mice and men. Physiological Genomics,v.27,237 - 244,2006;
EVANGELISTA, F. DE S.;KRIEGER, Jose Eduardo;.Small gene effect and exercise training-induced cardiac hypertrophy in mice: an Ace gene dosage study. Physiological Genomics,v.27,231 - 236,2006;
KRIEGER, Jose Eduardo;AC Nunes;RUDNICKI, M;R Magistroni;A Albertazzi;PEREIRA, A C;.Influence of ACE I/D gene polymorphism in the progression of renal failure in autosomal dominant polycystic kidney disease: a meta-analysis. Nephrology, Dialysis, Transplantation (Print),v.21,3155 - 3163,2006;
KRIEGER, Jose Eduardo;LOPES, Neuza H M;SOARES, Paulo R;OLIVEIRA, Sérgio Almeida de;CÉSAR, Luís A M;RAMIRES, José Antônio Franchini;HUEB, Whady;.Clinical Judgment and Treatment Options in Stable Multivessel Coronary Artery Disease. Journal of the American College of Cardiology (Print),v.48,948 - 953,2006;
RG Lelis;KRIEGER, Jose Eduardo;PEREIRA, A C;AP Schmidt;MJ Carmona;SA, Oliveira;JO Auler Jr.;.Apolipoprotein E4 genotype increases the risk of postoperative cognitive dysfunction in patients undergoing coronary artery bypass graft surgery. Journal of Cardiovascular Surgery,v.47,451 - 456,2006;
KRIEGER, Jose Eduardo;PEREIRA, A C;ALBANO, Lilian Maria José;Paulo Sérgio de Oliveira;KIM, Chong Ae;.PTPN11 Gene Analysis in 74 Brazilian Patients with Noonan Syndrome or Noonan-like Phenotype. Genetic Testing (Cessou em 2008. Cont. ISSN 1945-0265 Genetic Testing and Molecular Biomarkers),v.10,186 - 191,2006;
KRIEGER, Jose Eduardo;PEREIRA, Alexandre da Costa;MESQUITA, Sonia M;LOPES, A A;.PCR screening for 22q11.2 microdeletion: Development of a new cost-effective diagnostic tool. Clinica Chimica Acta (Print),v.369,78 - 81,2006;
KRIEGER, Jose Eduardo;MOREIRA, Edson Dias;OLIVEIRA, Edilamar Menezes de;OLIVEIRA, Vl;KRIEGER, Eduardo Moacyr;.DISSOCIATION OF BLOOD PRESSURE AND SYMPATHETIC ACTIVATION OF RENIN RELEASE IN SINOAORTIC-DENERVATED RATS. Clinical and Experimental Pharmacology & Physiology,v.33,471 - 476,2006;
KRIEGER, Jose Eduardo;PEREIRA, A. C.;TORRES, César Henrique;.Gene by environment QTL mapping through multiple trait analyses in blood pressure salt-sensitivity: identification of a novel QTL in rat chromosome 5. BMC Medical Genetics (Online),v.7,47,2006;
KRIEGER, Jose Eduardo;PEREIRA, A C;F, Passetti;OLIVEIRA, Paulo S L;L, Messiaen;BD, Gelb;CA, Kim;.Neurofibromatosis-Noonan syndrome: Molecular evidence of the concurrence of both disorders in a patient. American Journal of Medical Genetics. Part A,v.136A,242 - 245,2005;
KRIEGER, Jose Eduardo;E, Arteaga;PEREIRA, A C;C, Buck P;BM, Ianni;C, Mady;.Pesquisa de marcadores para os genes da cadeia pesada da beta-miosina cardíaca e da proteína C de ligação à miosina em familiares de pacientes com cardiomiopatia hipertrófica. Arquivos Brasileiros de Cardiologia (Impresso),v.84,467 - 472,2005;
KRIEGER, Jose Eduardo;PEREIRA, A C;PA, Lemos;E, Martinez;.Angiotensinogen M235T polymorphism is associated with coronary artery disease severity. Clinica Chimica Acta (Print),v.362,176 - 181,2005;
KRIEGER, Jose Eduardo;.Chronic β-adrenoceptor stimulation and cardiac hypertrophy with no induction of circulating renin. European Journal of Pharmacology,v.520,135 - 141,2005;
FA,, Ronchi;MC, Andrade;AK, Carmona;KRIEGER, Jose Eduardo;DE, Casarini;.N-domain angiotensin-converting enzyme isoform expression in tissues of Wistar and spontaneously hypertensive rats. Journal of Hypertension,v.23,1869 - 1878,2005;
KRIEGER, Jose Eduardo;J, Xavier-neto;MESQUITA, Sonia Ferreira;MOTA, G.;AA, Lopes;.Lack of evidence of association between MTHFR C677T polymorphism and congenital heart disease in a TDT study design. International Journal of Cardiology (Print),v.105,15 - 18,2005;
KRIEGER, Jose Eduardo;PEREIRA, A C;RS, Cunha;L, Herkenhoff F;MILL, José Geraldo;.Renin-angiotensin system polymorphisms interact with blood pressure in the determination of microalbuminuria in the general population. Journal of Human Hypertension,v.20,235 - 237,2005;
KRIEGER, Jose Eduardo;PEREIRA, A C;MILL, José Geraldo;.HYPERTENSION, OBESITY AND GNB3 GENE VARIANTS. Clinical and Experimental Pharmacology & Physiology,v.33,248 - 252,2006;
KRIEGER, Jose Eduardo;PEREIRA, A. C.;E, Martinez;.Metabolic syndrome and coronary artery disease: Is there a gender specific effect?. International Journal of Cardiology (Print),v.107,317 - 321,2006;
ARAÚJO, Fernando;F, Araujo;I,, Antelmi;PEREIRA, A. C.;R, Latorre Mdo;CJ, Grupi;KRIEGER, Jose Eduardo;AJ, Mansur;.Lower heart rate variability is associated with higher serum high-sensitivity C-reactive protein concentration in healthy individuals aged 46 years or more. International Journal of Cardiology,v.107,333 - 337,2006;
NASCIMENTO NETO, Raimundo Marques Do;KRIEGER, Jose Eduardo;COELHO, George Luiz Lins Machado;PEREIRA, A C;ET, A.;.Hearts of Brazil Project. Arquivos Brasileiros de Cardiologia,v.85,218 - 221,2005;
GOWDAK, Luís Henrique W;SCHETTERT, Isolmar Tadeu;ROCHITTE, Carlos Eduardo;LISBOA, Luiz Augusto F;DALLAN, Luis Alberto O;CÉSAR, Luiz Antônio Machado;KRIEGER, Jose Eduardo;RAMIRES, José Antônio Franchini;OLIVEIRA, Sérgio Almeida de;.Cell therapy plus transmyocardial laser revascularization for refractory angina. The Annals of Thoracic Surgery,v.80,712 - 714,2005;
KRIEGER, Jose Eduardo;MORANDINI FILHO, Antonio Alberto F;HEIMANN, Andrea Sterman;RABAK, Érika Temperly;VIEIRA, Alexandra Patrícia Zilli;MOTA, G.;.Serum angiotensin converting enzyme activity association with the I/D polymorphism in an ethnically admixtured population. Clinica Chimica Acta (Print),v.360,201 - 204,2005;
KRIEGER, Jose Eduardo;C, Sposito A;MOTA, G.;RS, Cunha;L, Herkenhoff F;MILL, José Geraldo;.Endothelial nitric oxide synthase gene variant modulates the relationship between serum cholesterol levels and blood pressure in the general population: New evidence for a direct effect of lipids in arterial blood pressure. Atherosclerosis (Amsterdam),v.184,193 - 200,2006;
KRIEGER, Jose Eduardo;ARAÚJO, M C;JULIANO, M A;OLIVEIRA, Edilamar Menezes de;CASARINI, D e;JULIANO, L;CARMONA, A K;.A continuous fluorescent assay for the determination of plasma and tissue angiotensin I-converting enzyme activity. Brazilian Journal of Medical and Biological Research,v.38,861 - 868,2005;
KRIEGER, Jose Eduardo;.A genética das síndromes hipertensivas endócrinas. Arquivos Brasileiros de Endocrinologia e Metabologia (Impresso),v.48,659 - 665,2004;
KRIEGER, Jose Eduardo;B JUNIOR, M L;ROSA, L F B P Costa;CASARINI, D e;EM, Oliveira;.CARDIOVASCULAR ADAPTATIONS IN RATS SUBMITTED TO A RESISTANCE-TRAINING MODEL. Clinical and Experimental Pharmacology & Physiology,v.32,249 - 254,2005;
HEIMANN, Andrea Sterman;FAVARATO, Maria H.;GOZZO, Fabio C.;CARREÑO, Flavia R.;EBERLIN, Marcos N;FERRO, Emer S;KREGE, John H;KRIEGER, Jose Eduardo;.ACE gene titration in mice uncovers a new mechanism for ACE on the control of body weight. Physiological Genomics,v.20,173 - 182,2005;
KRIEGER, Jose Eduardo;PEREIRA, A C;FREITAS, Humberto Felicio Gonçalves de;MOTA, G.;FUKUSHIMA, Júlia Tizue;MANSUR, Alfredo José;.Angiotensin-converting enzyme gene deletion polymorphism modulation of onset of symptoms and survival rate of patients with heart failure. International Journal of Cardiology (Print),v.99,97 - 103,2005;
KRIEGER, Jose Eduardo;JACOB, Carlos Eduardo;D´OTTAVIANO, Fabricio L´ofreddo;ALVRENGA, Conrado;RIBEIRO, Adriana Safatle;RIBEIRO JR, Ulisses;BRESCIANI, Cláudio José Caldas;ZILBERSTEIN, Bruno;GAMA, Angelita Habr;RODRIGUES, Joaquim José Gama;.Microsatellite instability in solitary and sporadic gastric cancer. Revista do Hospital das Clínicas (USP. Impresso) (Cessou em 2004. Cont. ISSN 1807- 5932 Clinics (São Paulo. Impresso)),v.59,279 - 285,2004;
KRIEGER, Jose Eduardo;PEREIRA, A C;LATORRE, Maria Do Rosário D O;MANSUR, Alfredo José;.High-sensitivity C-reactive protein concentration in a healthy Brazilian population. International Journal of Cardiology (Print),v.97,433 - 438,2004;
KRIEGER, Jose Eduardo;PEREIRA, A C;OLIVEIRA, Paulo S L;KIM, Chong Ae;.Clinical variability in a Noonan syndrome family with a newPTPN11 gene mutation. American Journal of Medical Genetics (Print) (Cessou em 2002. Foi desdobrado em três: ISSN 1552-4825, 1552-4841 e 1552-4868),v.130A,378 - 383,2004;
KRIEGER, Jose Eduardo;PEREIRA, A C;MOTA, G.;LATORRE, Maria Do Rosário D O;MANSUR, Alfredo José;.The influence of tumor necrosis factor −308 and C-reactive protein G1059C gene variants on serum concentration of C-reactive protein: evidence for an age-dependent association. Clinica Chimica Acta (Print),v.349,129 - 134,2004;
KRIEGER, Jose Eduardo;PEREIRA, A C;HUEB, Whady;SOARES, Paulo R;LUCES, José Ramon Lanz;GERSH, Bernard J;OLIVEIRA, Sérgio Almeida de;CÉSAR, Luiz Antônio Machado;RAMIRES, José Antônio Franchini;.Effect of glycoprotein IIIa PlA2 polymorphism on outcome of patients with stable coronary artery disease and effect of smoking. The American Journal of Cardiology,v.93,1469 - 1472,2004;
KRIEGER, Jose Eduardo;PEREIRA, A C;OLIVEIRA, Edilamar Menezes de;MIYAKAWA, Ayumi Aurea;JUNQUEIRA, Maria de Loudes;.Control of the rat angiotensin I converting enzyme gene by CRE-like sequences. Brazilian Journal of Medical and Biological Research,v.37,1441 - 1453,2004;
MIYAKAWA, Ayumi Aurea;JUNQUEIRA, Maria de Loudes;KRIEGER, Jose Eduardo;.Identification of two novel shear stress responsive elements in rat angiotensin I converting enzyme promoter. Physiological Genomics,v.17,107 - 113,2004;
KRIEGER, Jose Eduardo;PEREIRA, Aparecido B;MOTA, G.;CUNHA, R. S.;HERKENHOFF, Fernando L;POLLAK, Martin R;MILL, José Geraldo;.NPHS2 R229Q functional variant is associated with microalbuminuria in the general population. Kidney International,v.65,1026 - 1030,2004;
KRIEGER, Jose Eduardo;SCHETTERT, Isolmar Tadeu;MORANDINI FILHO, Antonio Alberto F;SHINOHARA, Elvira Maria Guerra;.Methylenetetrahydrofolate reductase (MTHFR) c677t gene variant modulates the homocysteine folate correlation in a mild folate-deficient population. Clinica Chimica Acta (Print),v.340,99 - 105,2004;
KRIEGER, Jose Eduardo;R, Schreiber;STO, Saad;FF, Costa;.Analysis of the mechanism of action of the Brazilian type (Agamma-195 C G) of hereditary persistence of fetal hemoglobin. European Journal of Haematology,v.71,418 - 424,2003;
EVANGELISTA, F. DE S.;BRUM, Patrícia C;KRIEGER, Jose Eduardo;.Duration-controlled swimming exercise training induces cardiac hypertrophy in mice. Brazilian Journal of Medical and Biological Research,v.36,1751 - 1759,2003;
BARRETO FILHO, José Augusto Soares;COLOMBO, Fernanda M Consolim;RICCIO, Grazia M Guerra;SANTOS, Raul D;CHACRA, Ana Paula M;LOPES, Heno F;TEIXEIRA, Sandra H;MARTINEZ, Tânia;KRIEGER, Jose Eduardo;KRIEGER, Eduardo Moacyr;.Hypercholesterolemia blunts forearm vasorelaxation and enhances the pressor response during acute systemic hypoxia. Arteriosclerosis, Thrombosis, and Vascular Biology,v.23,1660 - 1666,2003;
MARQUES, Georgia D M;QUINTO, Beata M R;PLAVINIK, Frida L;KRIEGER, Jose Eduardo;MARSON, Odair;CASARINI, Dulce Elena;.N-domain angiotensin I-converting enzyme with 80 kDa as a possible genetic marker of hypertension. Hypertension (Dallas),v.42,693 - 701,2003;
PEREIRA, A C;FLORIANO, Marcilene S.;MOTA, G.;CUNHA, R. S.;HERKENHOFF, Fernando L;MILL, José Geraldo;KRIEGER, Jose Eduardo;. 2 Adrenoceptor Functional Gene Variants, Obesity, and Blood Pressure Level Interactions in the General Population. Hypertension (Dallas, Tex. 1979),v.42,685 - 692,2003;
PEREIRA, A C;CORREA, Rosana Ferreira Romão;MOTA, G.;KIM, C A;MESQUITA, S F;KRIEGER, Jose Eduardo;.High specificity PCR screening for 22q11.2 microdeletion in three different ethnic groups. Brazilian Journal of Medical and Biological Research,v.36,1359 - 1365,2003;
CM, Pertrini;MIYAKAWA, Ayumi Aurea;LAURINDO, F. R.;KRIEGER, Jose Eduardo;.Nitric oxide regulates angiotensin-I converting enzyme under static conditions but not under shear stress. Brazilian Journal of Medical and Biological Research,v.36,1175 - 1178,2003;
KRIEGER, Jose Eduardo;PEREIRA, A C;MOTA, G.;FLORIANO, Marcilene S.;F, Araujo;AJ, Mansur;H, Vallada;.Analysis of a polymorphism in the promoter region of the tumor necrosis factor alpha gene in schizophrenia and bipolar disorder: further support for an association with schizophrenia. Molecular Psychiatry,v.8,718 - 720,2003;
KRIEGER, Jose Eduardo;GOZZO, Fabio C.;HEIMANN, Andrea Sterman;LINARDI, Alessandra;SHIDA, Claudio S;ALMEIDA, Paulo C;HYSLOP, Stephen;EBERLIN, Marcos N;FERRO, Emer S;.Novel natural peptide substrates for endopeptidase 24.15, neurolysin, and angiotensin-converting enzyme.The Journal of Biological Chemistry,v.278,8547 - 8555,2003;
M, Barton;R, Carmona;J, Ortmann;KRIEGER, Jose Eduardo;T, Traupe;.Obesity-associated activation of angiotensin and endothelin in the cardiovascular system.International Journal of Biochemistry & Cell Biology,v.35,826 - 837,2003;
PEREIRA, A C;MOTA, G.;CUNHA, R. S.;HERKENHOFF, Fernando L;MILL, José Geraldo;KRIEGER, Jose Eduardo;.Angiotensinogen 235T allele "dosage" is associated with blood pressure phenotypes.Hypertension (Dallas),v.41,25 - 30,2003;
NUNES, A. B.;EZABELLA, M. C. L.;PEREIRA, A C;KRIEGER, Jose Eduardo;TOLEDO, S. P. A.;.A novel Val648Ile substitution in RET protooncogene observed in a Cys634Arg multiple endocrine neoplasia type 2A kindred presenting with an adrenocorticotropin-producing pheochromocytoma.The Journal of Clinical Endocrinology and Metabolism,v.87,5658 - 5661,2002;
BARTON, M.;CARMONA, Renata;MORAWITZ, H.;USCIO, L. V. D.;GOTTSCH, W.;HILLEN, H.;HAUNDENSCHILD, C. C.;KRIEGER, Jose Eduardo;MUNTER, K.;LATTMANN, T.;LUSCHER, T. F.;SHAW, S.;.Obesity is associated with tissue-specific activation of renal angiotensin-converting enzyme in vivo: evidence for a regulatory role of endothelin.Hypertension (Dallas),v.35,329 - 336,2000;
PEREIRA, A C;MOTA, G.;KRIEGER, Jose Eduardo;.Hemochromatosis gene variants in three different ethnic populations: effects of admixture for screening programs.Human Biology,v.73,145 - 151,2001;
SCHREIBER, R.;GONCALVES, M. S.;JUNQUEIRA, Maria de Loudes;SAAD, S. T.;KRIEGER, Jose Eduardo;FF, Costa;.The Agamma-195 (C-->G) mutation in hereditary persistence of fetal hemoglobin is not associated with activation of a reporter gene in vitro.Brazilian Journal of Medical and Biological Research,v.34,489 - 492,2001;
LIMA, I. V. M.;PEREIRA, A. C.;MOTA, G.;KRIEGER, Jose Eduardo;VALLADA, H.;.Angiotensinogen and angiotensin converting enzyme gene polymorphisms and the risk of bipolar affective disorder in humans.Neuroscience Letters. Supplement,v.293,103 - 106,2000;
CHAVES, M. L. M. B.;HEIMANN, Andrea Sterman;KRIEGER, Jose Eduardo;.Stimulatory effect of dexamethasone on angiotensin-converting enzyme in neonatal rat cardiac myocytes.Brazilian Journal of Medical and Biological Research,v.33,661 - 664,2000;
HILSDORF, A. W.;CANEPPELE, D.;KRIEGER, Jose Eduardo;.Muscle Biopsy tecnique for electroforesis analysis of fish from the Genus brycon.Genetics and Molecular Biology,v.22,547 - 550,1999;
REIDER, M. J.;CARMONA, Renata;KRIEGER, Jose Eduardo;PRITCHARD, K. A.;GREENE, A. S.;.Suppression of angiotensin-converting enzyme expression and activity by shear stress.Circulation Research,v.80,312 - 319,1997;
HILSDORF, A. W.;KRIEGER, Jose Eduardo;.Characterization of six rat strains (Rattus norvegicus) by mitochondrial DNA restriction fragment length polymorphism.Brazilian Journal of Medical and Biological Research,v.32,267 - 273,1999;
KRIEGER, Jose Eduardo;LIARD, J. F.;COWLEY JR, A. W.;.Renal cytochrome P4504A activity and salt sensitivity in spontaneously hypertensive rats.The American Journal of Physiology,v.259,H1629 - H1636,1990;
KRIEGER, Jose Eduardo;DZAU, V. J.;.Renal cytochrome P4504A activity and salt sensitivity in spontaneously hypertensive rats.Hypertension (Dallas, Tex. 1979),v.18,I3 - I17,1991;
STEC, D. E.;TROLLIET, M. R.;KRIEGER, Jose Eduardo;JACOB, Howard J;ROMAN, R. J.;.Renal cytochrome P4504A activity and salt sensitivity in spontaneously hypertensive rats.Hypertension (Dallas),v.27,1329 - 1336,1996;
KRIEGER, Jose Eduardo;.New contributions to clinical hypertension from molecular biology.Current Opinion in Cardiology,v.13,312 - 316,1998;
XAVIER NETO, José;PEREIRA, A C;MOTOYAMA, A. H.;KRIEGER, Jose Eduardo;.A luciferase-engineered cell line for study of cAMP regulation in endothelial cells.The American Journal of Physiology,v.275,C75 - C81,1998;
RAKUGI, H.;JACOB, Howard J;KRIEGER, Jose Eduardo;INGELFINGER, J. R.;PRATT, R. E.;.Vascular injury induces angiotensinogen gene expression in the media and neointima.Circulation (New York),v.87,283 - 290,1993;
RAKUGI, H.;DUK-KYUNG, K.;KRIEGER, Jose Eduardo;DS, W.;VJ, D.;RE, P.;.Induction of angiotensin converting enzyme in the neointima after vascular injury. Possible role in restenosis.Journal of Clinical Investigation,v.93,339 - 346,1994;
KOIKE, G.;JACOB, Howard J;KRIEGER, Jose Eduardo;SZPIRER, C.;HOEHE, M.;HORIUCHI, M.;DZAU, V. J.;.Investigation of the phenylethanolamine N-methyltransferase gene as a candidate gene for hypertension.Hypertension (Dallas),v.26,595 - 601,1995;
PEREIRA, A C;MOTA, G.;BENSEÑOR, I.;LOTUFO, P. A.;KRIEGER, Jose Eduardo;.Effect of race, genetic population structure, and genetic models in two-locus association studies: clustering of functional renin-angiotensin system gene variants in hypertension association studies.Brazilian Journal of Medical and Biological Research,v.34,1421 - 1428,2001;
LIMA, I. V. M.;ZHAO, J.;SHAM, P.;PEREIRA, A C;KRIEGER, Jose Eduardo;H, Vallada;.Association and linkage studies between bipolar affective disorder and the polymorphic CAG/CTG repeat loci ERDA1, SEF2-1B, MAB21L and KCNN3.Molecular Psychiatry,v.6,565 - 569,2001;
MERJAN, A. J.;KANASHIRO, C. A.;KRIEGER, Jose Eduardo;HAN, S. W.;PAIVA, A. C. M.;.Ligand-induced endocytosis and nuclear localization of angiotensin II receptors expressed in CHO cells.Brazilian Journal of Medical and Biological Research,v.34,1175 - 1183,2001;
BERTOLA, Débora Romeo;KIM, C A;PEREIRA, A C;MOTA, G.;KRIEGER, Jose Eduardo;VIEIRA, I.;VALENTE, M.;LORETO, M.;MAGALHAES, R.;GONZALEZ, C.;.Are Noonan syndrome and Noonan-like/multiple giant cell lesion syndrome distinct entities?.American Journal of Medical Genetics,v.98,230 - 234,2001;
CASARINI, Dulce Elena;PLAVINIK, F. L.;ZANELLA, M. T.;MARSON, Odair;KRIEGER, Jose Eduardo;HIRATA, I. Y.;STELLA, R.;.Angiotensin converting enzymes from human urine of mild hypertensive untreated patients resemble the N-terminal fragment of human angiotensin I-converting enzyme.Internation J Biochem Cell Biol,v.33,75 - 85,2001;
CHAVES, M. L. M. B.;ANÉAS, Ivy;KRIEGER, Jose Eduardo;.Glucocorticoid regulation of angiotensin-converting enzyme in primary culture of adult cardiac fibroblasts.American Journal of Physiology. Regulatory, Integrative and Comparative Physiology,v.280,R25 - R32,2001;
SOUZA, H. P.;SOUZA, L. C.;ANASTACIO, V. M.;PEREIRA, A C;JUNQUEIRA, Maria de Loudes;KRIEGER, Jose Eduardo;LUZ, P. L.;AUGUSTO, O.;LAURINDO, F. R.;.Vascular oxidant stress early after balloon injury: evidence for increased NAD(P)H oxidoreductase activity.Free Radical Biology & Medicine,v.28,1232 - 1242,2000;
SIMPSON, J. G.;C, R. F.;ARRUDA, P.;ABREU, F. A.;ACENCIO, M.;ALVARENGA, R.;ALVES, L. M. C.;ARAYA, J. E.;BUENO, Maria Rita dos Santos e Passos;COLOMBO, Fernanda M Consolim;FF, Costa;HO, P.;JUNQUEIRA, M. L.;KRIEGER, Jose Eduardo;MENCK, Carlos Frederico;OLIVEIRA, C. M.;PESQUERO, João Bosco;SILVA JR, W. A.;H, Vallada;MA, Zago;ET, A.;.The genome sequence of the plant pathogen Xylella fastidiosa. The Xylella fastidiosa Consortium of the Organization for Nucleotide Sequencing and Analysis.Nature (London),v.406,151 - 159,2000;
OLIVEIRA, Edilamar Menezes de;SANTOS, R. A. S.;KRIEGER, Jose Eduardo;.Standardization of a fluorimetric assay for the determination of tissue angiotensin-converting enzyme activity in rats.Brazilian Journal of Medical and Biological Research,v.33,755 - 764,2000;
MONIKA, S.;KWITEKBLACK, Anne e;COWLEY JR, A. W.;HARRIS, E. L.;HARRAP, S. B.;KRIEGER, Jose Eduardo;PRINTZ, M. P.;PROVOOST, A. P.;SASSARD, J.;JACOB, Howard J;.New target regions for human hypertension via comparative genomics.Genome Research,v.10,473 - 482,2000;
BARTON, M.;CARMONA, Renata;KRIEGER, Jose Eduardo;GOETTSCH, W.;MORAWIETZ, H.;USCIO, L. V. D.;LATTMANN, T.;LUSCHER, T. F.;SHAW, S.;.Endothelin regulates angiotensin-converting enzyme in the mouse kidney.Journal of Cardiovascular Pharmacology,v.36,S244 - S247,2000;
PETTERSON, A.;NAGY, J. A.;BROWN, L. F.;SUNDBERG, C.;MORGAN, E.;JUNGLES, S.;CARTER, R.;KRIEGER, Jose Eduardo;MANSEAU, E. J.;HARVEY, V. S.;ECKELHOEFER, I.;FENG, D.;DVORAK, A. M.;MULLIGAN, R. C.;DVORAK, H. F.;.Heterogeneity of the angiogenic response induced in different normal adult tissues by vascular permeability factor/vascular endothelial growth factor.Laboratory Investigation,v.80,99 - 115,2000;
ZAGO, M. A.;SILVA JR, W. A.;DALLE, B.;GUALANDRO, S.;HUTZ, M. H.;LAPOUMEROULIE, C.;TAVELLA, M. H.;ARAUJO, A. G.;KRIEGER, Jose Eduardo;Elion J;KRISHNAMOORTHY, R.;.Atypical beta(s) haplotypes are generated by diverse genetic mechanisms.American Journal of Hematology,v.63,79 - 84,2000;
BASSON, C. T.;HUANG, T.;LIN, R. C.;BASHINSKY, D. R.;WEREMOWICZ, S.;VAGLIO, A.;BRUZZONE, R.;QUADRELLI, R.;LERONE, M.;ROMEO, G.;SILENGO, M.;PEREIRA, A C;KRIEGER, Jose Eduardo;MESQUITA, Sonia Ferreira;KAMISAGO, M.;MORTON, C. C.;PIERPOINT, M. E. M.;MULLER, C. W.;SEIDMAN, J. G.;SEIDMAN, C. E.;.Different TBX5 interactions in heart and limb defined by Holt-Oram syndrome mutations.PNAS. Proceedings of the National Academy of Sciences of the United States of America,v.96,2919 - 2924,1999;
CASARINI, Dulce Elena;BOIM, M. A.;STELLA, R. C. R.;KRIEGER, M. H.;KRIEGER, Jose Eduardo;SCHOR, N.;.Angiotensin I-converting enzyme activity in tubular fluid along the rat nephron.The American Journal of Physiology,v.272,F405 - F409,1997;
KRIEGER, Jose Eduardo;COWLEY JR, A. W.;.Rat angiotensin-converting enzyme promoter regulation by beta-adrenergics and cAMP in endothelium.The American Journal of Physiology,v.258,H994 - H1003,1990;
PAUL, M.;DW, B.;KRIEGER, Jose Eduardo;NAKAMURA, N.;DZAU, V. J.;.Rat angiotensin-converting enzyme promoter regulation by beta-adrenergics and cAMP in endothelium.The American Journal of Physiology,v.262,E644 - E650,1992;
SASAMURA, H.;HEIN, L.;KRIEGER, Jose Eduardo;PRATT, R. E.;KOBILKA, B. K.;DZAU, V. J.;.Rat angiotensin-converting enzyme promoter regulation by beta-adrenergics and cAMP in endothelium.Biochemical and Biophysical Research Communications,v.185,253 - 259,1992;
XAVIER NETO, José;PEREIRA, A C;JUNQUEIRA, Maria de Loudes;CARMONA, Renata;KRIEGER, Jose Eduardo;.Rat angiotensin-converting enzyme promoter regulation by beta-adrenergics and cAMP in endothelium.Hypertension (Dallas),v.34,31 - 38,1999;
COWLEY JR, A. W.;KRIEGER, Jose Eduardo;.A biometrical genome search in rats reveals the multigenic basis of blood pressure variation.Acta Physiologica Scandinavica. Supplementum,v.591,100 - 106,1990;
COWLEY JR, A. W.;ROMAN, R. J.;KRIEGER, Jose Eduardo;.A biometrical genome search in rats reveals the multigenic basis of blood pressure variation.Clinical and Experimental Pharmacology & Physiology,v.18,21 - 27,1991;
SCHORK, N. J.;KRIEGER, Jose Eduardo;TROLLIET, M. R.;FRANCHINI, Kleber Gomes;KOIKE, G.;KRIEGER, Eduardo Moacyr;LANDER, E. S.;DZAU, V. J.;JACOB, Howard J;.A biometrical genome search in rats reveals the multigenic basis of blood pressure variation.Genome Research,v.5,164 - 172,1995;